Corey Feldman 'Gravely Disappointed' With Corey Haim's In Memoriam Oscar Snub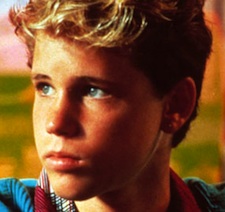 If you're like Corey Feldman -- or Movieline's own Mike Ryan -- the chances are good that you were fairly outraged when '80s icon Corey Haim was not included in the Academy Awards' In Memoriam segment on Sunday night. While rumors circulated that the snub occurred because of the circumstances surrounding Haim's death -- which was ruled as pneumonia, and not drug-related -- the Academy stated that it was actually a time issue: "Whatever the length of the sequence, there will always be fans and family members of those not included who will be disappointed by their omission. The Academy extends its understanding and its apologies to those who missed seeing a favorite face in this year's feature." Is that cool with you, Feldz?
Not at all. "I am gravely disappointed that the public outcry of the voices of Corey's supporters and fans on his omission from the SAG memorial was not heard by the Academy," Haim's long-time friend and cohort said in a statement on Tuesday. "Corey dedicated his life to the film industry...The same industry that failed to dedicate even 30 seconds to his memory."
Deep burn. Though to be fair, it's not like this is a total surprise. As Academy executive director Bruce Davis said last year, "[M]ore people die each year than can possibly be included in that segment. It gets close to agonizing by the end. You are dropping people who the public knows. It's just not comfortable."
With that in mind: Maybe they should do away with the In Memoriam montage altogether? I'm actually asking. It doesn't really bring much to the table as a home viewer -- beyond "Who will they leave out?" and "I forgot that he/she died!" -- and it's probably super awkward for the audience members. After all, how much clapping is appropriate, and who do you clap for the loudest? Anyway, it's there and it isn't going away, but maybe it should. If you can't please everyone, maybe it's best to please no one. Just a thought.
· Corey Feldman 'Disappointed' by Corey Haim Snub [E!]