5 Oscar Losers Who Would Have Given Better Speeches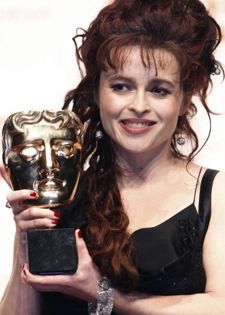 Like you, I spent Oscar night complaining. "Does anyone remember anything Christian Bale just said?" I crowed. "Where's James Franco? Did Bruce Vilanch actually write this patter? Is Melissa Leo allowed to live?" For my money, the worst part of the telecast were the speeches, the tepid medley of cursory thank-yous that never approached the greatness of, say, Shirley MacLaine's famous oratory. Here are five of Oscar losers who would have spruced things up a bit with podium panache.
Helena Bonham Carter
The witty and fun Helena Bonham Carter won a BAFTA for Best Supporting Actress recently. Her speech looked and sounded like this.
That extemporaneous, but efficient vibe was sorely lacking at the dais last night. While Melissa Leo clamored about nothing using four-letter words, Ms. Carter would've seized the moment with a few quips, a few thank-yous, and a joke about how she could never play the white swan.
Costumer Sandy Powell
The world nods in approval for Alice in Wonderland costumer Colleen Atwood's win, but Sandy Powell, last year's winner for The Young Victoria, speechifies better. "I already have two of these, so I'm feeling a bit greedy," she remarked at the 2010 podium, before dedicating her trophy to the designers who don't specialize in period pieces and, therefore, receive less awards. She might have single-handedly spurred Atwood's win with that comment, which is impressive, but I still missed her.
Geoffrey Rush
This is how you do a speech when you're positive you're going to win, Christian Bale.
Sharp, funny, and wonderfully respectful of his fellow nominees, Rush's 1997 Oscar speech for Shine hit all the basics in a short span. Plus, we got to glimpse his mother leaping off a sofa in joy. I support more of that in future telecasts.
Annette Bening
Natalie Portman's speech was swift and respectable, but, like most onstage oratories last night, it could've been more personal. The shockingly fabulous Golden Globes this year gifted us with a number of good speeches, including three-time Oscar loser Annette Bening's. When she thanked "her partner Julianne Moore" and "our awesome sperm donor" Mark Ruffalo after taking home Best Actress in a Comedy, I sighed. And when she thanked "the 1962 Golden Globe for Most Promising New Actor, my husband Warren Beatty," I fell out. Perfection.
Diane Warren
True, she wasn't even nominated last night for her work on the Burlesque soundtrack, but you can't argue that Diane doesn't give a hell of a speech. As evinced by her Golden Globe win for "You Haven't Seen the Last of Me," she knows her award statistics well. Randy Newman deserved the statue, but we deserved the well-blazered shenanigans of Diane Warren. She swears on the way to the stage! She references her past losses! Endearing at every turn, which seems so unlike someone involved even tangentially with Armageddon.