This Weekend at Movieline: Live Oscar and Indie Spirit Awards Coverage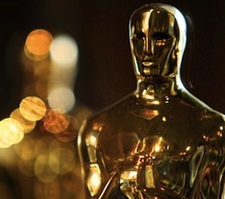 I guess you've heard by now the Oscars and Independent Spirit Awards are happening this weekend? Yay! is right. But I don't think you've yet been alerted as to the trenchant movie news outlet where you can follow each as they happen. Hint: You're reading it.
The thrills commence in Santa Monica on Saturday at 5 p.m. ET/2 p.m. PT, at which time the 26th annual Spirit Awards return to the beach after last year's tense, traffic-snaring installment in downtown L.A. Our own Jen Yamato will join Carly Steel on the red carpet beforehand and begin livetweeting from the winners' room backstage as the show gets underway. You can follow her @movieline; we'll be updating the winners here as well, with red-carpet video and other interviews to follow soon after.
Then, on Sunday, anyone not attending Movieline's Oscar Viewing Party in NYC should drop in here at 7 p.m. ET/4 p.m. PT for red-carpet coverage, followed by the livetweet orgy that is the Academy Awards at 8 p.m. ET/5 p.m. PT. The whole Movieline gang will be here for the long haul, or until abject catatonia overtakes the East Coast crew at 1 a.m., whichever comes first.
Of course we'd be nothing without your interaction, so please arrive armed with your typically piercing insights, witty repartee and/or any last-minute wagers for the In Memoriam montage pool. As always, evening wear is optional, though it would be best for everyone if at least wear something. In any case, see you this weekend!