Movieline's Celeb Oscar Predictions: Perfect Couples' Co-Star (and Host of 'The Bornies') Kyle Bornheimer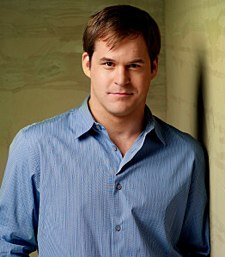 Continuing with our celebrity Oscar picks theme this week, next up is Kyle Bornheimer. You know him as Dave on the Thursday night NBC comedy Perfect Couples (or, perhaps from CBS's 2008 series, Worst Week), but, when not starring in television comedies, he's the host of his own private awards show called "The Bornies" which are... You know what, it's probably best to let Kyle explain along with his (very detailed! We love the spirit!) picks.
I'm a fan of the Oscars going to 10 nominees. I certainly liked more than five films this year, too, and it opens it up to varying genres. My brother, Ryan, and I have held our own ceremony for the last 16 years called The Bornies. Nicolas Cage is the most decorated Bornie award winner over the last 16 years, and Ryan believes he should have been nominated for Kick Ass. I agree.
Best Picture: This year's crop of nominees is excellent; for the most part, I enjoyed all of these films. Besides the iconic Social Network, this was a great year for animated films and family dramas. We are in the golden age of animated features, topped by the Toy Story series. I'd like to see Toy Story 3 win in that "Give-it-to-the-third-one-in-the-trilogy" kind of way. As far as family dramas, this is not a genre that is easy to get green-lit or financed, so I commend them on making them at all -- let alone making them well. Blue Valentine, The Kids are All Right, The Fighter were all stellar -- they reminded me of the some of the late '70s and early '80s films like Shoot the Moon, Kramer vs. Kramer, and Ordinary People.
Best Actor: I'd like to see Ryan Gosling nominated here -- I never considered myself a fan until Blue Valentine, the most nuanced, honestly invested, and best performance of his career by far. It'd be cool to get a tie between Franco and Eisenberg. The Social Network is an instant classic, and Eisenberg will be remembered for it the way Hoffman is for The Graduate. I really like the kind of actor Franco is becoming: incredibly engaging and committed without pressing.
Best Actress: First of all, they should have created some dual award for Julianne Moore and Annette Bening. I'll pull for Michelle Williams or Bening. Bening's performance was perfectly calibrated -- restrained when it needed it to be, loose and unpredictable when it was called for. She put on a clinic, and she needs to start being mentioned with Winger, Pfeiffer, Sarandon, and Streep as far as the great actresses of last 30 years.
Best Director: The fact that Fincher made such an exciting film out of a nerd sitting in front of a laptop needs to be commended, but I wouldn't mind seeing David O. Russell win. That movie was deceptively hard to pull off and Russell really brought it home with ease and assurance, nailing an honest, humanistic tone that showed the good and bad of everybody. He was helped by some outstanding performances but he had the good sense to let them fly. And he probably won Bale an Oscar by showing the real dude at the end. Hell, Bale might have underplayed it.