Movieline's Celeb Oscar Picks: Comedian Guy Branum Insists the Kids are All Right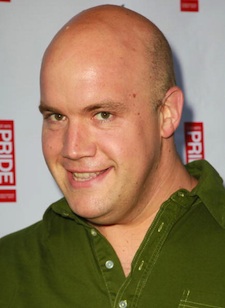 You'll be relieved to find that comedian Guy Branum (of Chelsea Lately, No Strings Attached, and stand-up in your local amphitheater) is as much of an Oscar buff as we are: He has favorite Oscar years, speeches, and flukes. When Movieline asked him to guess the winners for this Sunday's ceremony, he responded with enthusiastic detail and a commitment to the underdog -- a little like Kathy Griffin. Also, he has precious things to say about Helena Bonham Carter.
Can we trust your Oscar picks? You were in a movie with Natalie Portman, and I'm worried all your rubrics are askew.
The fact that I am Close Personal Acquaintances ™ with Natalie Portman would never have any impact on my Oscar picks. Picking Oscar winners isn't a matter of opinion, it's a question of science. I have been charting Oscar patterns and researching Academy history since before Ms. Portman ever batted an eyelash at Timothy Hutton.
What's the Best Picture of the year? Will it win? What will win?
The Kids are All Right was the best picture. It's the kind of humane dramedy James L. Brooks used to make back when he made good movies. It's not a huge movie, but in a year without epics or box office behemoths, it was, to my mind, the best all-around package. That said, just because it was my favorite movie doesn't make it a Best Picture of the Year Oscar winner. It won't win by a longshot, and it probably shouldn't. The King's Speech will win. I loved it, but it shouldn't. The Social Network should win. It's a tight, personal drama, but manages to feel gigantic.
What provocative statement should Banksy make? And how? And using who as a canvas?
Banksy will mistake Nicole Kidman's forehead for a concrete wall and attempt to stencil Hosni Mubarak and a rat playing mahjong on it.
What categories are still up for grabs? Are you hoping for an upset anywhere?
Best Supporting is the place where you get surprised. Christian Bale is a strong front-runner for his all-fireworks-all-the-time performance in The Fighter, but he's also an a-hole. Geoffrey Rush managed to slap down Tom Cruise for Best Actor in '97, he could do it again. Mark Ruffalo was SUPER lovable. I could see either of them taking home the statue.
Best Supporting Actress is even more of a free-for-all. Melissa Leo has been gathering a lot of lesser awards, but Lauren Bacall walked into the '97 awards ('97 again!) like it was a coronation and the statue ended up going to Juliette Binoche. THIS is the category ripe for an upset. Hailee Steinfeld was great, and we haven't given the award to a juvenile performer since '94 (unless you count the sophomoric acceptance of Adrian Brody). I'd like to see Helena Bonham Carter win. She totally deserves an Oscar, and it's crazy to think this is only her second nomination. Amy Adams is also somebody who's been cranking out quality work, and probably will get one eventually, but this year, I think HBC might just surprise everybody.
What do you make of The King Speech's recent win streak? Is it unfounded?
It's a very lovely, astoundingly watchable movie that is in no way challenging or transgressive. I think it's interesting that it, as much as The Social Network, is about the way media has changed the way we operate in the world. I also wonder how much Hollywood has fallen in love with it because it is, essentially, about a guy giving tough love to an emotionally vulnerable celebrity. At core, it's just The Madness of King George with smaller stakes and no Dame Helen Mirren. Some years, the small, lovely movie manages to trounce the giant, era-defining movie, and it's fun that this is one of them, but those small movies are generally ones that are more acceptable to older academy voters. What I'm saying is that In the Heat of the Night NEVER should have beaten The Graduate.
Who will give the finest speech?
Firth will be slightly boring, Bale will be self-congradulatory, Portman will be somehow manage to be simultaneously flustered and poised. I'd say whoever Best Supporting Actress is will come in second behind Aaron Sorkin for The Social Network. Or maybe Lisa Cholodenko.
If you were told you could win an Oscar on Sunday under the bizarre condition that you deliver a speech given by a previous winner word-for-word, who would you choose? (I'd go Cloris.)
Frances McDormand: composed, funny, and DASHING, and neither read nor felt rehearsed. And I'd like to tell Joel Coen he made a woman of me. Or Roberto Benigni, because his speech was a shitshow. Funniest award acceptance speech of all time is Emma Thompson taking home Best Screenplay at the '94 Golden Globes.
Who should present Best Picture?
The only people who feel like they have the stature to do it are super-famous guys who also won Academy Awards for Best Picture or Director, so I'll say Warren Beatty, because I hate Kevin Costner. Or an amazing director you forget is alive. Or Olivia De Havilland who is allowed to do anything at the Oscars she damn well pleases. When you're the lady who lost to Hattie McDaniel, you should get that kind of respect.
Finally, say something about Helena Bonham Carter.
F*cking Awesome. You listen to that posh goddamn accent in The King's Speech, and wonder where she got it, then you remember she's the first Earl of Oxford and Asquith's great granddaughter. She's a Bonham Carter. RESPECT MOTHERF*CKER! I know she dresses like a bag lady who is also a wizard, I'm OK with that.