Late Night Highlights: Watch DJ Pauly D Surprise Jay Leno With a Jersey Shore Duck Phone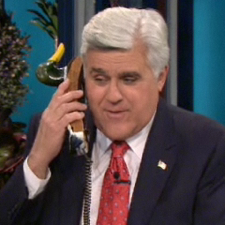 Last night, DJ Pauly D gave Jay Leno an authentic Jersey Shore duck phone -- to The Tonight Show host's complete lack of delight. Elsewhere, Cory Monteith talked about meeting Elton John, Conan O'Brien acted out 127 Hours, Jon Stewart knocked Lindsay Lohan, and George Lopez added a few minority characters to this year's Oscar nominees.
5. Academy Award Minorities
George Lopez took it upon himself to add a few minorities to your favorite Oscar-nominated films -- including The Social Network and Black Swan -- just in time for Sunday's award show.