30 Twitter Celebs Who Have More Followers Than Oscar Host James Franco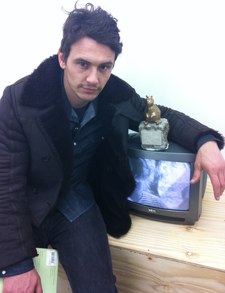 The Academy is bound and determined to youngify the Oscars this year even if it kills them -- and judging by the looks and sound of it so far, death may indeed be lurking. But one notable phenomenon has come of recruiting James Franco and Anne Hathaway to co-host the show: @JamesFranco, the Twitter habitat of the actor/writer/director/student/Three's Company revivalist/Oscar-nominee. Surely the teeming young culture around Franco's Tweets will help skew the notoriously aged Oscarcast demos down a few years, right? It depends! How many followers does one need before s/he is officially a tastemaker?
As of this writing, Franco boasts 167,440 followers on Twitter -- not a bad number at all for someone who's been on the microblogging service for exactly a week, and admittedly 20,000 more than he had at this time on Wednesday. Nevertheless, if you're the Academy, and part of your mission is to rope in Gen X/Y converts to your bloated annual fête, there are at least 30 other celebrities out there with a hotter social-media temperature -- and thus, arguably, a broader influence among the coveted demographics sought with such garbage as Hathaway's "Rump Shaker"/Evita take-off and the other ironic teasers that have made the rounds for the last month. At this rate, Fred Durst could probably bring in more of a crowd than Franco could, and why not? He's a filmmaker who helped launch Jesse Eisenberg, so he's qualified-ish -- plus he's rocking 1.5 million followers. I'm just saying!
Along with Durst, here are 29 more Twitter celebs who could conceivably get the kids -- or at some extra viewers -- into the Academy Awards telecast. Maybe next year:
1. Tyra Banks -- 2,652,930
2. Stephen Fry -- 2,261,729
3. Rainn Wilson -- 2,193,481
4. Larry King -- 1,785,189
5. Eddie Izzard -- 1,783,161
6. Levar Burton -- 1,616,384
7. Fred Durst -- 1,511,891
8. Soleil Moon Frye -- 1,426,056
9. Alyssa Milano -- 1,335,908
10. Audrina Patridge -- 1,297,054
11. Yoko Ono -- 1,236,089
12. Danny DeVito -- 1,049,613
13. Dolly Parton -- 926,191
14. Adam Lambert -- 887,108
15. Simon Pegg -- 860,032
16. Nathan Fillion -- 735,949
17. Kirstie Alley -- 715,628
18. Kelly Osbourne -- 693,140
19. Kathy Grfifin -- 640,378
20. Steve Martin -- 637,841
21. Peter Serafinowicz -- 502,055
22. Rachel Zoe -- 384,507
23. Sofia Vergara -- 362,491
24. Emma Roberts -- 338,017
25. Mike Tyson -- 305,973
26. Josh Groban -- 263,868
27. Kristin Chenoweth -- 254,865
28. Rachelle Lefevre -- 208,765
29. Olivia Munn -- 214,597
30. Mario Lopez -- 176,429