Movieline Plans This Year's Best Supporting Actress Award, Second by Second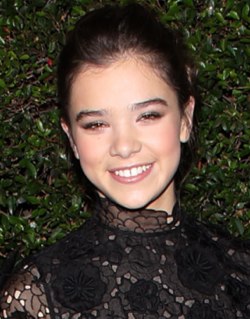 If you've been reading the Oscar Index, you realize that the Best Supporting Actress Oscar is this year's wild card. Will Melissa Leo prevail in spite of her considerable pomp? Will Hailee Steinfeld come from behind with a victory? Will Helena Bonham Carter just be awesome always? It's a toss-up. Movieline's own Julie Miller and yours truly are mapping out the telecast's most exciting award with a play-by-play of the nominee announcement, the winner, and the ensuing fight in the Kodak Theater.
Louis: Christoph Waltz takes to the stage in German overlord gear, wearing what looks like Raul Julia's outfit from Street Fighter but with a graphic of the Reichstag on his chest.
Julie: He announces that the night's Best Supporting Actress category is sponsored by Chili's.
Louis: Cut to Jacki Weaver, who is wearing an Awesome Blossom as a broach. It looks fetching with her "Animal Kingdom"-theme ensemble of a cheetah-print bolero and vicuna-skin sheath dress. Rowr!
Julie: Christoph prepares to announce each of the five nominees with a cheeky grin.
Louis: He reads the following patter in an unamused monotone: "These five ladies are a quazy quintet of talents. They have strange accents that the Academy found puzzling. One of those accents has sent Oscar into a confused tailspin, and for that, one of these women will go home with an Oscar." As an ad-lib, he adds, "Let's find out who that wunderkinder is."
Julie: So Christoph opens the envelope and laughs cryptically for 30 seconds a la Col. Hans Landa. He then announces...
Louis: That five-year-old Hailee Steinfeld is the winner! A ripple of "ooh"s and "I better shop at Kmart"s fills the Kodak. Hailee peaks out from under her Dior capelet and can't believe it. She has kindergarten screening tomorrow and is nervous anyway.
Julie: Melissa Leo claps and grins -- until she can barely contain the Irish rage she "portrayed" so well in The Fighter. Amy Adams and Christian Bale hold Melissa back when she shakes a fist at the cameraman positioned directly in front of her.
Somewhere, deep in the theater, Helena Bonham Carter -- who is wearing an actual birds' nest on her hair outfitted with LIVE CANARIES -- vows to never eat at Chili's again.
Louis: Hailee attaches training wheels to her incubator and starts to roll to the stage. Helena lays eyes on Melissa, who is feeding her fists to Amy and Christian, and resolves to step in. Helena sets fire to the mythological birds on her head, charges Melissa, and cries, "Consider this!" The aflame aviary sets upon Melissa.
Julie: ...
Louis: Meanwhile, Jacki Weaver has comforted herself by playing with the baby koala tucked under her bolero.
Julie: The director considers cutting to commercial because of the chaos erupting in the audience. But democracy wins, and we watch it all in a magnificent Maury-style split screen.
Louis: Finally, Hailee makes it to the stage. Christoph Waltz hands her the Oscar and the crown of Southwestern Eggrolls. She looks like the Santa Lucia of family dining. "I just want to say thanks to everyone who's been there for me," Hailee chirps. "My mom and dad. My grandfather. My great-grandfather, who just turned 48 today. Hi, Paw-Paw!
And Jeff Bridges! I love you, Rooster! And the new Farm Animal Magnetz Set my mom got me for preschool graduation. I love you, roosters." In the audience, Helena and Melissa now look like ashes covered in feathers, which inspires Darren Aronofsky.
Julie: Sadly, Hailee forgets to mumble a thanks to the Coen brothers or propose marriage to Justin Bieber. (She is able to do both later via the Thank You cam.) As she leaves the stage, (an apparition of) Bill Murray appears to present Best Visual Effects and to announce, for the final time, that he has not read the Ghostbusters 3 script and does not plan to ever. "So f*ck off."
Louis: Yay!
Julie: Epilogue: Melissa Leo threatens to start a fight with the pint-size Steinberg at the Vanity Fair Oscar after party but Courtney Love appears out of nowhere to save her. The truest grit of all.