Late Night Highlights: Liza Minnelli Wants a Role on Glee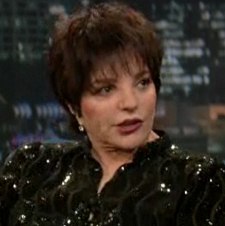 Do you know who would really, really like to guest star on Glee? Broadway legend (and apparently Lady Gaga's inspiration), Liza Minnelli. At least that is what the icon told Jimmy Fallon last night. Elsewhere, David Letterman mocked Lindsay Lohan, Joel McHale made fun of Craig Ferguson's newlywed audience members, and Conan O'Brien ate hot wings with Jason Sudeikis before performing a scene from The Social Network.
5. Conan Performs The Social Network
As per their week-long tradition, Conan and Andy Richter acted out another scene from an Oscar nominated film on last night's show.