Bold Predictions, Imaginary Guns: Paul Feig Calls the Oscars For Movieline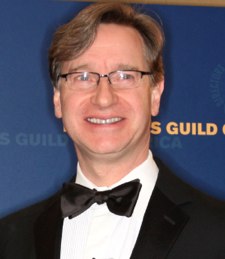 Ed. note: All this week, Movieline has solicited Oscar predictions from numerous film and TV personalities in the lead-up to Sunday's Academy Awards ceremony. To our humble and grateful surprise, writer/producer/director/actor Paul Feig (Freaks and Geeks, The Office, the forthcoming Bridesmaids) responded with the following piece. Who said long-form commentary was dead?
My Oscar predictions are...
I have no predictions. Because when people and movies get nominated for Oscars, it usually means they're really good. Like incredibly good. Oh, sure, there may occasionally be nominations some of us don't agree with. But some of our friends usually enjoy those actors or movies, and then we get into a fight about it and eventually realize it's all based on personal tastes at the end of the day. And so we agree to disagree. (Or else we hold a grudge and never speak to those people again. It all depends how much sugar we've had that day.)
However, since I've been asked to write down my Oscar picks, all I can do is go for the "If There Was A Gun To My Head" approach and give you my opinions completely against my will and with no authority or expertise whatsoever.
OK, here goes. The barrel is pressed against my temple.
Let's start in the Supporting Roles.
See, this is hard already because all these actresses were awesome in their own way. Melissa Leo and Jacki Weaver played two tough, controlling mothers in The Fighter and Animal Kingdom respectively, but each brought amazing truth and complexity to the roles in different ways. Helena Bonham Carter was an awesome pillar of strength and motivation for her husband in The King's Speech. Hailee Steinfeld gave an impressive debut performance as a girl mature beyond her years in True Grit. But ... I guess I have to go with Amy Adams. I loved her character so much in The Fighter because she was such a badass who wouldn't ever back down from a fight or challenge. She played it with such strength and humanity that I find myself pulling for her on Oscar night.
OK, got through that one. The finger on the trigger hasn't tensed up yet.
In the Supporting Actor category, guess what? It's difficult again! John Hawkes in Winter's Bone was great as a scary guy who ends up revealing his caring side, Jeremy Renner ruled as a loose cannon in The Town, Mark Ruffalo was funny and sweet as an instant father in The Kids Are All Right, and Geoffrey Rush did what Geoffrey Rush always does best in movies -- be awesome.
But... I guess I have to go with Christian Bale in The Fighter. His character was so layered and real and nerve-wracking while at the same time being weirdly funny and ultimately lovable. It was quite a performance.
All right, that's two down. I'm still alive and the gunman seems content.
In the Actress in a Leading Role category, things get even more difficult. Nicole Kidman was heartbreakingly fantastic as a woman dealing with the loss of her son in Rabbit Hole. Jennifer Lawrence was also heartbreakingly fantastic as a strong-willed teenager trying to protect her brother and sister in Winter's Bone, and Michelle Williams too was heartbreakingly fantastic as a woman dealing with her dissolving marriage in Blue Valentine. In Black Swan, Natalie Portman was... Well, she learned how to be an actual prima ballerina, for cryin' out loud! And her performance was, yes, heartbreakingly fantastic! So, how am I supposed to say who was better than who?
Uh oh. The guy with the gun is starting to look a little agitated. OK. I guess I have to go with Annette Bening, who, in The Kids Are All Right, was both heartbreaking and fantastic and completely relatable as a mother fighting to keep her marriage and family together. To me, she's one of those actresses you can't take your eyes off of and whom you marvel at how effortless they are in their performances. So, I pick Annette.
Whew. Averted a gunman crisis there. Moving on.
Best Actor in a Leading Role? Oh, man, why did I agree to write this? All right, all right. Uncock the gun, imaginary gunman. Cripes. Chill out.
Well, let's see. James Franco was incredible doing a virtual one-man show in 127 Hours. Jeff Bridges was layered, hilarious and strong in True Grit. Javier Bardem brought a wealth of pathos and vulnerability to his role in Biutiful. Jesse Eisenberg turned in a performance that was funny, relatable and infuriating in The Social Network. And Colin Firth... Well, what can you say? His portrayal of the stammering king in The King's Speech was stunning and human. I mean, c'mon, the man's amazing. They're all amazing. How am I supposed to pick?
Ow! That's my head you're pushing that blue steel into! C'mon, give me a break, guy-I-wish-I-never-thought-up.
Look, this is a tough one. I loved all their performances. I especially loved Franco, Eisenberg and Firth. And these were all completely different roles. All these roles and movies are completely different. Now my stomach hurts. Oh, hey, guess what? I just offered the gunman a twenty and he agreed to let me slide on this one. Man, why didn't I think of bribing the guy before?
Now, since I make my living as a director, I'm not even going to wade into any predictions about who I think deserves the Directing Oscar. They all do. They're all awesome. And they're all fellow Directors Guild members. So I refuse to pick.
Oh boy. It appears I now owe the gunman an evening out on the town for that one. Not exactly sure what his definition of "an evening out on the town" is but I don't think it just means dinner and drinks.
Wow, writing this article was a really bad idea. Moving on.
OK, final category. Best Picture. Apparently, I have no more free passes from the gunman so I now have to pick one again. Hardly seems fair. Oh well.
This is a super tough one because, again, all these movies are great and individual. How do I compare the great Toy Story 3 with the great Black Swan? Are Winter's Bone and Inception really films you can judge against each other? I loved all the best picture nominees this year and so find this sort of an impossible task. But since my life is now on the line, even though there's always a hope that our night on the town will go so well that the gunman will decide he wants to keep me alive even if I refuse to pick this one, I think I have to go for The Fighter.
Why? Because, simply put, it's the movie I feel like I want to watch over and over again. It makes me laugh. It inspires me. I love all the performances and it contains my favorite part of a movie this year -- Micky Ward's six sisters. They alone were worth the price of admission. And it was just the tip of the iceberg for all the great things about this movie.
OK, so there you have it. Opinions nobody really wanted from a guy not that many people know. But I kept myself alive and got a date out of it as well. Not sure how my wife will feel about that but so be it.
Enjoy the Oscars and good luck with your Oscar pools, feeling good in the knowledge that I was absolutely no help to you whatsoever.