5 Scenes Faye Dunaway Should Reenact on Dancing with the Stars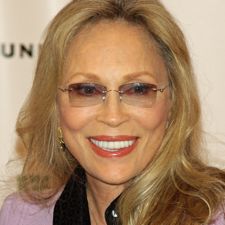 Faye Dunaway may compete on Dancing with the Stars. Did you hear me? This is not one of your absinthe dreams. This is a real rumor, and we're all human beings, and we deserve this. The frosty Oscar winner may be a part of next season, where she'll inevitably be paired with Corky Ballas and a barbershop hat. Let's get Movieline-y and figure out which of her famous film scenes should be reenacted under an outsize mirror ball.
1. The Bonnie and Clyde shooting
Who doesn't want to see Faye Dunaway convulse and throb like she's on the receiving end of a fusillade? If she takes the DWTS stage, she must don a bobbed wig and recreate her freaky-deaky death scene with Mr. Ballas taking Warren Beatty's role. Bruno Tonioli will gladly emulate a machine gun with vulgar gyrations.
2. The Thomas Crown Affair's chess game
Dunaway at her most beautiful: This sexy, highly fashionable scene from The Thomas Crown Affair is chemistry personified. (Hell, Madonna riffed on it in her "The Power of Goodbye" video.) For the DWTS version, I picture ballroom music, a whinny here or there to signify rook castling, and some decadent wardrobe choices. So glamorous. No wonder it's Nina Garcia's favorite.
3. Jake's confrontation with Evelyn in Chinatown
Dancing with the Stars is nothing without a playful slapfight once a season. After a hokey seltzer fight with Corky, Faye can writhe back and forth while yelling "She's my daughter! She's my sister!" in a stupor while jiving.
4. The "Ecumenical Liberation Front" scene from Network
Has there been a movie that more shamelessly mocked the times in which it was produced than Network? Faye's Oscar-winning role as grubby TV lord Diana Christensen is a knockout, but this scene barely makes our list thanks to the costuming. We need more beige dresses and cinnamon ascots on primetime! Give us a beige-and-cinammon cha-cha-cha, Faye!
5. The non-ode to wire hangers in Mommie Dearest
We'll leave it to Kate Winslet to redeem the original Mildred Pierce's legacy on HBO, but in the meantime, Ms. Dunaway must reenact her most famously insane role as Joan Crawford. I want a sexy sheath dress made from metallic wire hangers, smeared lipstick, and ghastly stares. But enough about Len Goodman!