Movieline's Celebrity Oscar Predictions: Tila Tequila Wants James Franco To Call Her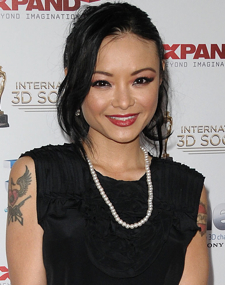 A few seasoned film actors, writers and comediennes have already predicted this year's Academy Award winners, but Movieline HQ wanted to spice up its new Oscar feature by summoning an industry "outsider" to forecast Hollywood's most esteemed award night. Enter Tila 'Tequila' Nguyen, the entertainment personality and cinema enthusiast who earlier this month held her own against Jennifer Aniston and Zach Galifianakis in a riotous edition of Funny or Die's Between Two Ferns.
When Movieline tracked Tila down last week via e-mail, the actress and VH1 alum was only too game to discuss her favorite films of the year, her own Oscar-nominee crushes and the speech she hopes to deliver to the Academy one day.
Hi Tila! What are you hoping will win the Oscar for Best Picture this year?
That's a tough one, but I would have to say Black Swan. I think Black Swan has the best chance of winning because there hasn't been a movie that really gives the audience an inside look of what these ballet dancers have to go through, and all that pressure put on them. I think Darren Aronofsky did a fantastic job at turning a beautiful ballet movie into a thriller.
What would you say is the Worst Picture in the Best Picture category?
I would have to say The King's Speech.
What do you hope to see from co-hosts James Franco and Anne Hathaway during the ceremony?
With James Franco's outspoken wit and Anne Hathaway's girl-next-door sweetness, this couldn't have been a better pairing to make this year's Oscar ceremony memorable! We should be expecting a lot of the unexpected as well as a lot of laughs this year!
Do you have an Oscar-viewing tradition? Where will you be watching this year and with who?
Each year for the Oscars, I gather up all of my girlfriends and my fabulous gay friends, and we all dress up to the nines! Who doesn't like to play dress up? So we use this excuse to get dolled up, look fabulous, and have a big viewing party at my house. Then once the ceremony is over, it's all about the after parties!
Have you ever fantasized about winning an Oscar? What would your speech be?
Now that I'm getting into serious acting, I will admit that I've always fantasized about winning an Oscar! I mean, who doesn't? However, when I was a little girl this vision came to me out of nowhere -- that I was onstage accepting an Oscar! Then as I was making my thank you speech, I kept tearing up because I never thought this would be possible! I was trying to thank God and everyone else who kept on believing in me when others thought I would fail. So mark my words, if I saw this vivid vision when I was a little girl, that only means that it's going to come true one day, pretty soon! You have the first exclusive to this!
Would you give any of the best actor or actress nominees a shot at love with you? If so, which ones and why?
James Franco, are you reading this? If you are, I just want to let you know that I think you and I should get together ASAP! Life is short. Why let this opportunity to meet another eccentric lady, such as myself, go to waste? Haha! I've also always had a huge crush on Natalie Portman, but she's a M.I.L.F. now so unfortunately for me, she's off the market. James, call me. I guarantee you that you truly never knew what love meant until you meet me. 🙂