Drinks! Prizes! Oscars! Join Movieline and 92YTribeca for This Year's Big Show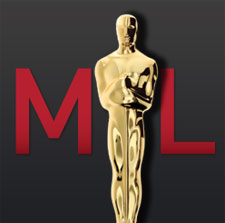 If you're one of the many swell Movieline readers based in or around New York City, you've surely already marked down Feb. 27 as the night you're joining us and the gang at 92YTribeca for our annual Oscar Viewing Party. But just in case you haven't, I bring you news that will no doubt sweeten the deal. (Hint: Drinks!)
Attendees already receive a complimentary glass of champagne for the low cost of admission, but they also receive an array of drink specials custom-made for this magnificent occasion, including:
· The Royal Stammer (The King's Speech) -- Crown Royal w/ soda
· The Sweet Girl (Black Swan) -- Grapefruit juice with vodka and a bloody dribble of grenadine
· The Rooster (True Grit): PBR and a shot of whiskey
· The Sean Parker Appletini (The Social Network) -- Apple Martini
· Insiption: A Drink Within a Drink -- Boilermaker (shot of Jim Beam in a glass of Rolling Rock)
· Toy Story 3: The Buzzed Lightyear -- vodka and grape soda
That is not all! We also have a raft of prizes for those who finish at the front of the evening's Oscar predictions:
· Pair of tickets to the Reel Pieces film/talk series at 92nd Street Y
· Two pairs of tickets to 92YTribeca events -- one Comedy Below Canal event, one film screening
· Oscar Cookies from Eleni's Bakery
· Vouchers for the "Classic New York TV & Movie Sites Tour" from On Location Tours
And above all, expect the enduring prize of communally viewing what promises to be the strangest Oscars in years. Our splendid hosts Jon Friedman and Sara Benincasa will lead the way, from the Franco follies to any stunts Banksy has planned and beyond.
Get your tickets here, and we'll see you Sunday!