Was Sarah Palin's Alaska Really the Worst Reality Show of the Year?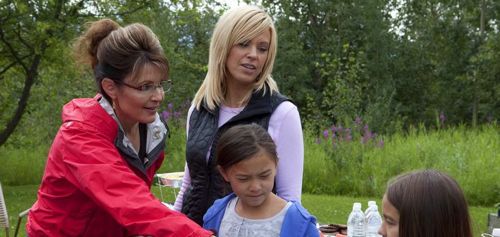 We're not much for Razzie-style hatefests 'round Movieline HQ, but the second-annual Bennie Awards -- a roundup of the worst in primetime television -- brings up an important point: Was Sarah Palin's Alaska sincerely a terrible reality show? One so bad that it deserved bottom honors under the moral depravity of this year's Bridalplasty and Bad Girls Club? Let's sit on our rifles and think about it.
Either way, shame on me (and you, vicariously) for watching every episode of Sarah Palin's Alaska. We could only make so many "ursa mater" jokes about Aunt Sarah, and Bristol could only bludgeon so many halibut. The TLC series was a boring, if harmless campaign for attention, and we should all forget it happened. Done!
But while we're remembering, I'll suggest that it doesn't warrant the wrath of the "Golden Trashcan Award." The production quality alone was pretty exceptional. The sight and splendor of Sarah's floatplane coasting along the Denali skyline smacked of North by Northwest's cropdusting scene (with Todd in the Cary Grant role, and "boredom" in the role of "suspense"). Bridalplasty is distinctively awful and even less entertaining. Or educational. I'm sorry to have brought up that word.
Here are the rest of the Bennie Awards. For the record, Ryan Seacrest is as deserving of an Emmy as constant-winner Jeff Probst is, and I can't stand for any trashing of his vaudevillian emcee skills.
Worst Female in a Reality Program
Sarah Palin (Sarah Palin's Alaska) -- WINNER
Camille Grammer (The Real Housewives of Beverly Hills)
Kim Kardashian (Keeping up with the Kardashians)
Shanna Moakler (Bridalplasty)
Snooki (Jersey Shore)
Worst Male in a Reality Program
Ryan Seacrest (American Idol) -- WINNER
David Hasselhoff (The Hasselhoffs)
Randy Jackson (American Idol)
Kevin Pollack (Million Dollar Money Drop)
The Situation (Jersey Shore)
Worst Female in a Scripted Program
AnnaLynne McCord (90210) -- WINNER
Aly Michalka (Hellcats)
Blake Lively (Gossip Girl)
Elizabeth Mitchell (V)
Jada Pinkett Smith (HawthoRNe)
Worst Male in a Scripted Program
Ed Westwick (Gossip Girl) -- WINNER
Jim Belushi (The Defenders)
David Caruso (CSI: Miami)
Charlie Sheen (Two and Half Men)
Blair Underwood (The Event)
Pushing Daisies Award
Better off Ted -- WINNER
Caprica
Huge
Lone Star
Terriers
Worst Reality Program
Sarah Palin's Alaska -- WINNER
16 and Pregnant
Bad Girls Club
Bridalplasty
Jersey Shore
Worst Scripted Program
Hellcats -- WINNER
Chase
Happy Town
Outsourced
Sh*t My Dad Says