VIDEO: Chloe Sevigny Talks About Upcoming Lizzie Borden Miniseries, Sees Her Drag Confessions For First Time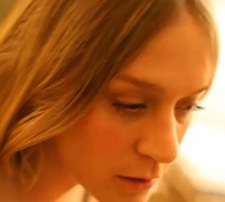 Chloe Sevigny has a well known fear and disregard for talk shows, so any time the actress gives an interview it's cause for celebration. This being Sevigny, however, she is not heading to Letterman or Conan, but rather doing an online segment with artist and Fischerspooner founder Casey Spooner and Adam Dugas for Imagine Fashion. It's for the better though, as we get to hear Chloe rhyme, talk about her upcoming miniseries and watch first hand as she sees LA improv star Drew Droege's now famous impression of her. This is so meta!
The first bit of good news The Sev has is that she's developing a miniseries for HBO -- on Lizzie Borden. Not to be cliche, but is there anyone else who was born to play Lizzie more than Chloe? The pretty, doe-eyed spinster was 32-years-old when she gave her ma and pa 40 and 41 axe whacks (respectively), and kind of New England's original "It girl."
The film will apparently be a two part miniseries, and Chloe discusses how much she enjoyed visiting the now historic home in the wastelands of Fall River, MA. Now, Sevigny could possibly be playing one of the other Borden sisters or family maid Bridget Sullivan, but wouldn't it be nice to finally see the always supporting Sev in a lead role?
Then, the better news: Chloe watches her drag impersonator for the first time. And she seems to be actually amused by the whole thing! She even ends the interview with a perfect imitation of Droege's imitation of her.
The Sev also mentions she has considered doing a cameo in the popular webisodes -- sadly the Oscar themed episode has wrapped -- so let's hope Droege gets in touch. That is, if he thinks he can handle the raw kombucha energy of the Nicholas-Ghesquiere-loving Chloe.
[via Imagine Fashion]