The Farrelly Brothers on Hall Pass, Adult Masturbation and Casting the Perfect Penis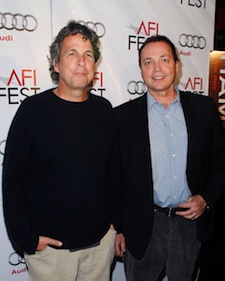 Whatever you do, don't think Peter and Bobby Farrelly are only interested in bodily functions. After all, their films -- from Dumb & Dumber to There's Something About Mary to Stuck on You -- are often built on misguided-but-sweet men that get involved in situations beyond their control. If there's some actual toilet humor involved -- as in the case of their new film Hall Pass -- that just goes with the territory of being misguided.
In Hall Pass, Owen Wilson and Jason Sudeikis play a couple of suburban men who, bored by their current sex lives -- often retreating to the bathroom or the mini-van, respectively, for self pleasure -- are given a one week reprieve from their current marriages, no questions asked. Movieline spoke to the Farrellys about directing Hall Pass, their upcoming Three Stooges film, why There's Something About Mary and Stuck on You don't get the credit they deserve (for different reasons), and the intricacies of adult masturbation.
(Also, on a personal note: I always swore to myself that if I ever got the chance to interview the Farrelly Brothers that I would vent my frustration about seeing Jimmy Fallon and Drew Barrymore dancing around the field after the final, agonizing, out of the 2004 World Series, while filming a scene for Fever Pitch.)
I always told myself that if I ever interviewed you guys that I would introduce myself as from the Rhode Island Slut, but then I realized that's stupid.
Peter: [Laughs] Wait, where are you from originally?
Let's just say that I've never forgiven you for putting Jimmy Fallon and Drew Barrymore on the field for that scene in Fever Pitch after the 2004 World Series?
Peter: Were you going for St. Louis or the Red Sox?
I'm from St. Louis originally, so I'm a huge Cardinals guy.
Peter: Ah, I would hope so.
OK, so the concept of a hall pass: is this a real thing? Do people do this?
Peter: Oh, yeah.
Bobby: Starting next month!
Peter: I'm sure that... Bob, who's that basketball player?
Bobby: I'm drawing a blank, but there is a guy in the NBA and we read about him. He's a European player and he happens to be married to a smoking hot wife, too. For whatever reason, she gives him a day or a week off a year to go out so he can sow his oats. So I don't know if it's a European thing or not. But that story did come out, I saw it in the last couple of years. I was like, "Oh my God."
Peter: I'll tell you one thing, I think if women saw the movie they would be more inclined to do it than guys would.
Right, the movie makes the point that most guys aren't going to be as successful as they think they're going to be.
Peter: And this is a guy concept, Hall Pass, but it's a chick flick at heart. The women win on all levels here. They get the hall pass, they get to actually succeed with a hall pass in the sense that they see it through. They get away with the hall pass and their husbands come home changed and humbled from the hall pass. So it's a win, win, win, win, win for women.
Is this Owen Wilson's first "I'm an older guy now" type role?
Bobby: Going into the movie we knew that if we have Owen in it and it's about a guy getting a hall pass and he's the "cool" Owen that everyone's kind of used to seeing, it wouldn't be fair, really. It's like, "Wait a minute, he could probably go out and get some women." But a kind of dorky, suburban dad version of Owen is going to have a harder time, so he understood that going in. I give him full credit because he's totally going against what he typically plays and he does a real nice job of it in Hall Pass.
Peter: What was that movie a few years ago with Russell Crowe where he was the cigarette informant guy?
The Insider.
Peter: Yeah, we were looking at it like that. Russell Crowe can probably do pretty well with the chicks but the guy in that movie couldn't. We've known Owen for years and, believe it or not, Owen's got a side to him that we show in Hall Pass. He's not the coolest dude in the world at all times. He's actually kind of like an intellectual and a history buff and he's got a lot of dorky qualities. And we just thought it would be nice to show that side of him rather than the side that they keep showing over and over.
There's a depressing line in the film about still "having to jerk off even though you're married." Is the greater message of the film "Hey, teenager, don't think you're going to stop masturbating when you become an adult"?
Peter: [Laughs] Well, I think the sooner that you get over that fact the happier you're going to be. I remember being like 18 thinking this is terrible, I shouldn't be jerking off at this point. I should have stopped at 15! What is wrong with me? Now I'm in my 50s and still going away at it. It doesn't end. Nice image for the readers. When you're a kid you think that once you get married, certainly, you'll never have to do that again. But, you know, what you find out is that it's not out of necessity, sometimes it's out of...
Bobby: General maintenance.
Right, I never thought that when I was in my 30s that I would still get a pimple or still have to lock a bedroom door.
Peter: Exactly! You know, I still get an occasional pimple. I didn't expect that! They're not telling us the truth! You're thinking that stuff all going to be gone at 15 or 16 and it doesn't go away.
Speaking of, were you aware that the adult website mentioned in the film actually exists?
Peter: Yes. We had to clear it with the real one. What happened, Bob?
Bobby: I think we had... I believe we have permission to use it.
Peter: Their business is about to go through the roof!
Bobby: The good people at c*ckgobblers dot com.
Are they publicly traded? Should we invest?
Peter: They're on the NASDAQ.
Bobby: It's a penny stock right now but it's probably worth getting into.
Jason Sudeikis is an interesting guy as an actor but he's been criminally underused on SNL this season. What's his future?
Peter: He's taking off. He's going places, big time. To us, he's the second coming of Jack Lemmon. He is the perfect second banana in this movie. He is so funny, so flawed, so quick and brought so much to this role. He's one of the all-time funny guys and I see huge success for him. And, also, because he has this movie coming out later this year -- Horrible Bosses, which has got a huge buzz in town -- his star is going to be rising very quickly.
There is a decently long scene of full frontal male nudity in this film. Is the selection process for that, um, humbling?
Peter: It was fun... It was odd, I should say, to cast. Literally we were given pictures of big c*cks. And it was like, "Which one do you want?" And we're like, "Um, the biggest one. Whatever that is." And then they're like, "Well, that guy, he's not big there but he could pop it up." And I'm like, "Aw, Jesus, we have to actually think about this?" So, yeah, we thought it would be funny and it turned out to be. Of course, it's one of those scenes like in all of our movies: you'll have a scene that's the most favorite scene and the least favorite scene -- and it's the same scene. A lot of people are put off by that but the majority love it.
Pages: 1 2