Taylor Handley on Skateland, Battle: Los Angeles, and Navigating His Hollywood Career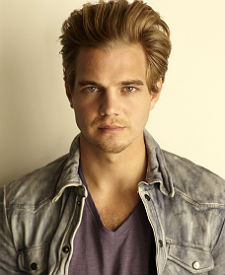 Taylor Handley has been acting for exactly half of his life, but thanks to supporting turns in Columbia Pictures' alien invasion pic Battle: Los Angeles and the Texas-set Sundance indie Skateland -- both opening weeks apart in March -- he's in for the biggest month of his career. And with his profile on the rise as he builds on an already-comprehensive filmography, as the 26-year-old Southern California native put it to Movieline, "the heat is on."
It's a well-deserved heat for the chameleonic Handley, who managed to grow out of his early start as a child actor (Jack Frost, the Disney Channel vehicle The Phantom of the Megaplex) by taking on increasingly daring roles in television and film, whether playing the memorably loved and loathed Marissa Cooper-obsessed Oliver on The O.C., a sexually confused young man in the gender-bending indie rom-com Zerophilia, or one of four doomed youngsters in the horror prequel The Texas Chainsaw Massacre: The Beginning (directed by Battle: Los Angeles helmer Jonathan Liebesman).
Movieline spoke with Handley via telephone about his upcoming March two-fer, the grueling experience of playing LCpl. Corey Simmons in Battle: Los Angeles, which reunited him with director Liebesman, and the career strategy he's employed in his 13 years and counting as a working actor.
After filming both Skateland and Battle: Los Angeles in Shreveport, you must have a lot of local spots.
We shot Skateland in the end of 2008, in Shreveport, Louisiana just between the border of East Texas and Louisiana -- and we shot Battle: Los Angeles at the end of 2009, also in Shreveport. So I know a lot about Shreveport. Basically, the Poker Room and the El Dorado Casino were my hangouts. Riverboats. [Pauses] I left some money in Shreveport at the riverboats.
Speaking of Skateland, one of the bigger warnings for folks who haven't yet seen it seems to be that this is not Roll Bounce for white Texas teens in the '80s...
Oh my God, no. The movie's not centered around roller skating, that's the main thing you have to know. It's just the backdrop, the theme to these young adults' lives. I like to keep my character descriptions kind of short, but [my character] is kind of like a laid-back ladies' man who's got a penchant for single malt scotch and Marlboro Reds.
There's a natural intimacy to Skateland, partly due to the fact that it's a small cast and you all play lifelong friends in a small town. How did you come to join the film?
That's actually kind of a funny story. Originally, a few years back I was shooting this TV show called Hidden Palms and one of the producer's assistants was Anthony Burns, the director of Skateland. So I had ties going into the room for the audition with Tony. The script came to me as all meetings and auditions come to me, through my manager and my agency, but going in it was a very friendly room. I could sit back and do my thing, and we got a call the next day that they were interested.
That marks twice now that you've worked multiple times with the same director, in a way, now that you've also been in two of Jonathan Liebesman's films -- The Texas Chainsaw Massacre: The Beginning, and Battle: Los Angeles. Is that sort of actor-director connection something that every performer hopes to find?
Definitely. I mean, ultimately making movies is a really, really small world. Being on sets and going to the same locations, like shooting in Shreveport, you're always working with somebody from another set that you worked with. But as far as an actor-director connection, I think those can develop and when they do they're really great, and you just cultivate it like you would any relationship or friendship. If you find that something special it helps down the line when you want to do more projects with each other.
Did you stay close with Jonathan after shooting Texas Chainsaw? That couldn't have hurt your chances when you went out for Battle: Los Angeles.
It's the same kind of thing; I went into the room and Jonathan was there with the casting director Debra Zane, who's wonderful. And again it was a very friendly room, and when it's a friendly room it's easier to relax and do your thing and not worry about the quiet producer in the corner who you think is casting all this judgment upon you. But it's always a pleasure to work with Jonathan. I saw him throughout the years between Texas Chainsaw and Battle: Los Angeles, so the relationship is there and I look forward to working with him more.
How would you describe Jonathan as a director, now that you've been in two of his films?
Jonathan is a visionary. He knows exactly what he wants, and he won't stop until he gets it. He's a madman. He gives 110% and moves so quickly. I never worked with somebody who was so... crazy isn't the right word, but he just knows what he wants and he won't stop until he gets it.
Pages: 1 2