Kathy Griffin To Emulate Sarah Palin, Join Tea Party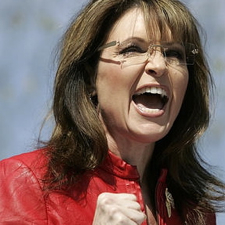 Well, that was quick. Just one day after putting out a post looking for a middle-aged "recent Tea Party candidate and home schooler -- a Sarah Palin type," Glee seems to have found their gal -- Kathy Griffin! This is going to be fun!
Get ready for some serious rage. You see, Kathy is a liberal and a comedian. She thinks Palin is dumb and uneducated. She makes fun of her daughter. She makes fun of her values. She. Makes. Fun.
Executive producer Ryan Murphy has mentioned wanting to have a right-wing student on his increasingly stunt casted show, but this seems to be the next best thing. Griffin also seems like the kind of actor that is sure to find herself back on the show a few more times after her initial appearance.
And since this is Glee, the show that forgets plotlines, drops characters and jumps the shark more often than Palin invents words, Loretta Devine will also be stopping by playing Sister Mary Constance, an exotic dancer-turned-Carmelite Nun. It's funny because an exotic dancer and nun are on opposite ends of the spectrum. Right?
Look for Palin's video response to this all very, very soon.
[ TVLine ]