Dianna Agron And Studio Appointed Boyfriend Alex Pettyfer Call It Quits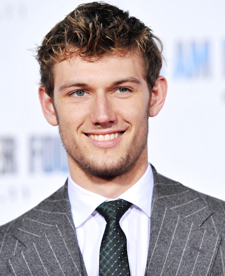 Ah, young love. It seems like one day you think you have meet your soulmate and no sooner do you find yourself connecting on the most intimate of levels then you learn your press obligations for the film you are both starring in are over and you are free to go your separate ways. For this reason we sympathize with young I Am Number Four stars Dianna Agron and Alex Pettyfer.
The darling duo were set up by the film's director, DJ Caruso, and even spent time recently denying rumors of an engagement. This is all for naught however now that a source reveals the pair have broken things off and Agron has moved out of the home she was sharing with Pettyfer.
Things likely went south when the couple learned that despite their best efforts, their film opened at number two behind a flick featuring the world's meanest mom and barely ahead of a cross-dressing caper starring the dude from Welcome Home, Roscoe Jenkins.
On the bright side, Agron has a whole cast full of Glee dudes who are surely looking for a side job, though it does make it harder to become a movie star dating a television actor.
[ Usmagazine.com ]