MOTD Contest: Win a Big Pony Collection FlipCam!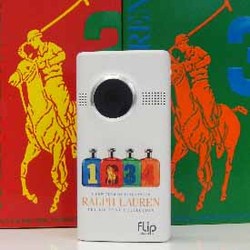 Back in simpler, snowier times in January at the Sundance Film Festival, The Big Pony Fragrance Collection by Ralph Lauren made its digital debut with a fragrant twist on sound and cinema. The opening-night celebration showcased a short film developed by filmmaker and photographer Bruce Weber, as well as a live performance by OneRepublic, the pop rock band whose hit song "Secrets" serves as the soundtrack to the film.
The event was one of Movieline's favorites, with Sundance darlings Elizabeth Olsen, Elijah Wood and Ben Nemtin, Jonnie Penn, and Duncan Penn from The Buried Life. Everyone enjoyed a four-course meal inspired by the collection, prepared by Chef Markus Glocker, the Chef de Cuisine of Gordon Ramsey at the celebrity favorite The London NYC. The party didn't stop until the late hours of the night, as guest DJ Jesse Marco spun while guests participated in digital interactions across Twitter, Facebook and Gowalla, including a digital photobooth, giving attendees opportunities to engage and share their experiences with friends in real-time.
So, why are we telling you all of this and making you jealous of our Sundance shenanigans? Well, The Big Pony Team is kind enough to give away a brand new FlipCam to the winner of the Movieline of the Day contest. Make sure to check out Movieline.com every weekday starting Monday and click on to our Facebook page. On Friday, a random winner will be chosen -- and will receive the FlipCam!
Also, don't forget to enter our Statuesque Oscar Picks Sweepstakes for a chance to win a MacBook Air, one of several iPods and other prizes.