Late Night Highlights: Andy Richter Finally Destroys Watson the Supercomputer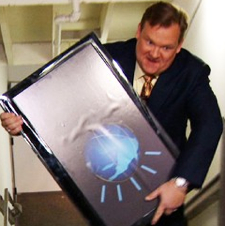 After a widely reported win on Jeopardy, Watson the Supercomputer stopped by Conan one last time to mock Andy Richter about bedding his wife -- only it did not end well for the game show victor. Elsewhere, Stephen Colbert vacuumed with a naked model on his back, Jason Sudeikis talked Justin Bieber, Jenna Fischer explained her college arrest and Craig Ferguson opened his show with a rabbit and a robot because he can.
5. A Signature Late Late Show Opening
Craig Ferguson opened his Late Late show with a rabbit puppet and a small person dressed like a robot. That's all.