Is Glee About to Take On Sarah Palin and the Tea Party?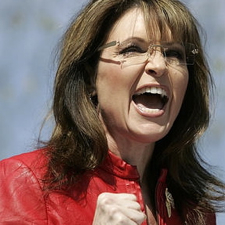 Glee executive producers Ryan Murphy and Brad Falchuck may be shifting their attention to an FX project called American Horror Story this April, but for now it looks like the pair will be tackling another kind of American horror story on an upcoming episode of their Fox musical series: Sarah Palin and the Tea Party. Exclusive casting details ahead.
In Friday's casting breakdowns, Glee producers submitted a posting for two roles that need to be cast immediately. The first is for a character named Tammy Jean, a middle-aged "recent Tea Party candidate and home schooler -- a Sarah Palin type." It is unclear when the season two episode will air but it will begin shooting Tuesday.
A conservative storyline would not be a surprise for Glee fans as Ryan Murphy has previously discussed adding a right-wing character to the McKinley High mix.
"We've taken a couple jabs at the right wing this year," Murphy told TV Guide last June. "So what I want to do with this character is have someone who Christian kids and parents can recognize and say, 'Oh, look -- I'm represented there, too!' If we're trying to form a world of inclusiveness, we've got to include that point of view as well."
Gleeks will recall that Sarah Palin was directly referenced last year in one of Sue Sylvester's best quips to date. While reprimanding Santana and Brittany, the Jane Lynch character spat, "You may be two of the stupidest teens I've ever encountered -- and that's saying something. I once taught a cheerleading seminar to Sarah Palin."
In addition to Tammy Jean, Glee producers are also looking to cast Sister Mary Constance, a middle-aged African-American and exotic dancer-turned-Carmelite Nun.
Casting suggestions currently being accepted in the comment section below.