VIDEO: So That's Why Hereafter Was Nominated for an Oscar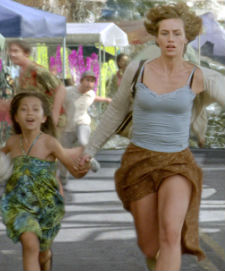 Perhaps in response to all those people left stymied by Hereafter's Oscar nomination for visual effects (especially when Tron: Legacy got shut out of the category, poor thing), Warner Bros. have released a shot-by-shot reel showing how VFX supervisor Michael Owens and Scanline VFX put together that nine-minute opening tsunami sequence. And when you see how the live-action parts came together combining CG, green screen, water tanks, and on-location photography -- well, "Oscar-nominated Hereafter" doesn't sound so silly anymore.
The CG-heavy sequence, which leads off the Clint Eastwood supernatural drama, depicts a devastating natural disaster in which a tsunami swells from the ocean and overtakes a beachside resort town (Maui, standing in for Southeast Asia), destroying everything in its path. The film's female protagonist (Cecile de France) gets swept up in the enormous wave, which knocks her into oblivion and brings her to the brink of death. And, according to the dialogue-free VFX reel below, it only took about a million moving parts to come together.
Watching the VFX breakdown is almost more beautiful than the completed scene itself, and far more impressive than the actual film as a whole. Scanline VFX, known for their work with fluid effects, previously worked on Poseidon, 300, The Chronicles of Narnia: Prince Caspian, and (of course) Roland Emmerich's 2012, and are currently in production on Tarsem's 3D fantasy film Immortals.
But what about the competition? Although Scanline's Hereafter team nabbed a Visual Effects Society award for "supporting" visual effects, Inception won the top prize for Outstanding Visual Effects in a Visual-Effects Driven Feature Motion Picture -- surely a more solid indicator of where Oscar's leaning. But both Inception and Hereafter also vie against the immersive, near-total visual environments in Tim Burton's Alice in Wonderland. (Harry Potter and the Deathly Hallows Part 1 and Iron Man 2 round out the nominees.)
In any case, bravo to Warner Bros. and the Hereafter team for justifying their Oscar bid. Now, if only Salt, Unstoppable, and The Wolfman would do the same.