Fanboys Rejoice! Shane Black to Direct, Maybe Pen Iron Man 3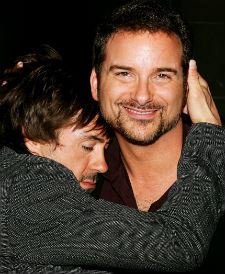 Writer-director Shane Black is reportedly in negotiations to direct Iron Man 3, taking over from series helmer Jon Favreau for the threequel, which is already slated for release on May 3, 2013. But hey, no pressure! Two years should be plenty of time for the guy who wrote Lethal Weapon in six weeks. Besides, Black's got plenty of qualifications that should inspire fanboy confidence. Such as:
1. He's from Pittsburgh. Just like Movieline's Julie Miller! And Christina Aguilera!
2. He's known for writing sharp action pics. Monster Squad (with Fred Dekker), Last Action Hero, The Last Boy Scout, The Long Kiss Goodnight, Kiss Kiss Bang Bang -- and he's what the Iron Man franchise needs right about now. Sorry, folks, but someone needs to snap this series back into fighting shape. And it might as well be the guy who gave Wolfman nards.
3. He helped launch Robert Downey Jr.'s mid-2000s comeback. Kiss Kiss Bang Bang also re-introduced RDJ to audiences as a viable leading action star and managed to rein in that RDJ wit, which gives us hope that Black will give his star more to do in Iron Man 3 than he had to do in the last film. (Superhero depression, downward spiral, redemptive fight scene, yawn.)
4. He'll find a way to set Iron Man 3 during Christmas.
As Deadline reports, Black is close to sealing the deal to direct but it's still unclear whether or not he'll be scripting Iron Man 3. But it'd be a good idea if he did. Still, Black's been a busy bee; attached to direct the pulp fiction adaptation Doc Savage at Sony (which also co-wrote) he was also, as of last month, set to direct the manga adaptation Death Note for Warner Bros. (of his dueling projects, Iron Man 3 is the only one with a firm date already set).
• Shane Black to Direct Marvel's 'Iron Man 3' [Deadline]