And Then Gwyneth Paltrow Helped Broker Peace Between Ryan Murphy and Kings of Leon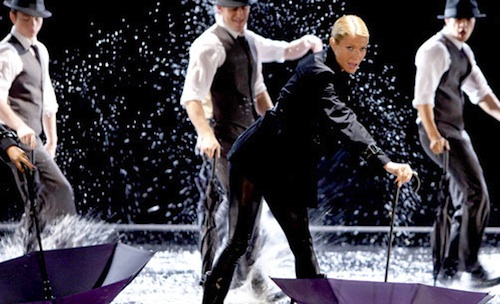 There was a time when Gwyneth Paltrow was just an Academy Award winning movie star. Now she's the type of all-encompassing media conglomerate that appears on Glee, the Grammys, the Billboard charts, the Oscars, and even in actual movies. (Yes, Country Strong happened.) And perhaps its time to add "mediator" to Paltrow's ever-growing list of talents.
THR reports that Paltrow recently helped broker a truce between Glee creator Ryan Murphy and the band Kings of Leon. Of course she did. You might remember the feud that erupted between the two when -- deep breath -- Kings of Leon denied Glee use of their songs, and subsequently told Murphy to "buy a new bra" after the Glee creator said "f*ck you" to the band. Thankfully, for the sake of Top-40, this not even Hundred Days War is about over.
[A]ccording to a source, Paltrow, a Glee guest star and close friend of Murphy's (she starred in his 2006 film Running With Scissors), orchestrated a détente via text messages between the warring parties, both apologized and "it's all good now."
Phew! Between this and the fact that Charlie Sheen will soon be allowed to go back to work, Feb. 17 is coming up awesome. Thanks, Gwyneth?
· Gwyneth Paltrow Mediates Truce Between Kings of Leon, Ryan Murphy [THR]