Report: Late Show Hoodwinked by 'Friend' of Lindsay Lohan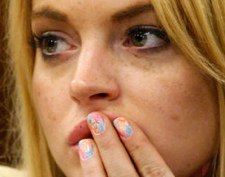 Oh, for Christ's sake: A few hours after David Letterman's head writers tweeted in stereo that Lindsay Lohan would deliver Thursday's Late Show Top 10 list, Lohan herself tweeted a denial: "I am NOT going to be doing David Letterman, I'm not sure how this happened, but I am sorry for the confusion..." Aren't we all -- particularly, this morning, CBS.
In yet another Twitter dispatch, NYT staffer Dave Itzkoff just passed along the network's official explanation: "Someone purporting to be a friend of Lindsay's reached out to the show yesterday, allegedly on her behalf & booked her to appear." Like anyone believes that, or any of this, or has another second of their lives to devote to it, or pleeeeaaaase, world, be interesting againnnnnn.
[via @ditzkoff]