Oscar Index: Ladyfight!
Welcome to the penultimate edition of Movieline's Oscar Index, your bulletproof weekly guide to the ups, downs, spins, twists, turns, bumps, bruises and other noteworthy happenings in the 2010-11 awards race. Our Institute for the Advanced Study of Kudos Forensics has issued its latest breakdown of the current competition, and it's... volatile (to say the least). Let's have a look:
[Click the graphs for larger images]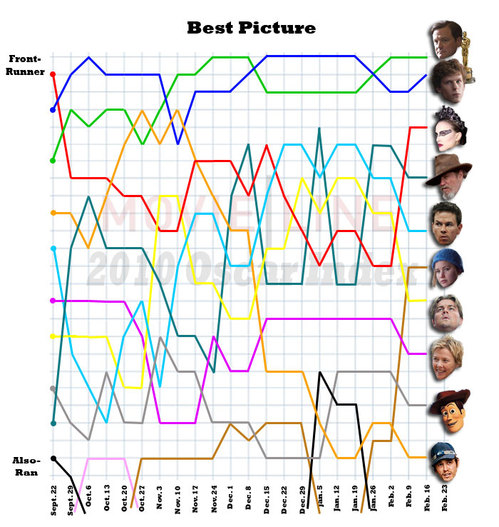 The Nominees:
1. The King's Speech
2. The Social Network
3. Black Swan
4. True Grit
5. The Fighter
6. Winter's Bone
7. Inception
8. The Kids Are All Right
9. Toy Story 3
10. 127 Hours
Notes: So the BAFTA Awards happened, lauding The King's Speech with seven prizes including the ultra-rare combo of Best Picture and Best British Picture. Naturally this ignited a new round of hand-wringing and history-parsing for the Oscar homestretch -- the mystifying, reductive reads ("[T]he powers that be at BAFTA will surely be pleased that they gave out their gongs first," wrote Time's Glen Levy), the painstaking analyses ("[I]f The King's Speech wins, it will be a film that has won Best Picture with the least amount of critics awards since 1944," noted Sasha Stone) and the obligatory outlier studies ("Clearly The Social Network is still hanging in there, and based on my conversations with Oscar voters, so is The Fighter," added Pete Hammond).
Indeed, David Fincher's Best Director win last weekend implies that The Social Network is more than "hanging in there" -- it still retains at least some industrial sway and, per Scott Feinberg's powerful reminder, the statistical benefit of the doubt:
In the 66 years that the National Board of Review, New York Film Critics Circle, and Hollywood Foreign Press Association have been concurrently giving out awards, no film that has been named best picture by all three groups -- as has The Social Network -- has not gone on to win the best picture Oscar. The eight films that won all of those precursor awards and went on to win the best picture Oscar were On the Waterfront (1954), Around the World in 80 Days (1956), The Bridge on the River Kwai (1957), Tom Jones (1963), A Man for All Seasons (1966), Ordinary People (1980), Terms of Endearment (1983), and Schindler's List (1993). [...]
When a non-British person beats a British person in a close race at the BAFTA Awards -- as was the case today when David Fincher (The Social Network) "upset" Tom Hooper (The King's Speech) to win best director -- that person will almost always go on to win the Oscar. (And at the Oscars, best director almost always corresponds with best picture.) That was the case with Benicio Del Toro vs. Albert Finney (2000), Forest Whitaker vs. Peter O'Toole (2006), Marion Cotillard vs. Julie Christie (2007), etc.
To say nothing of the radicalized Academy population that will reject The King's Speech on the basis that its "hero" is a spoiled, privileged royal with his own moat. Or something.
Honestly I have nothing else to really offer about any of this that you haven't heard/read/ridiculed/drunkenly lamented a hundred times before, so I'll leave you with this sobering yet oddly pleasing observation from Woody Allen (via Tom O'Neil): "I have no regard for that kind of ceremony. I just don't think they know what they're doing. When you see who wins those things -- or who doesn't win them -- you can see how meaningless this Oscar thing is. ... I know it sounds terrible, but winning that Oscar for Annie Hall didn't mean anything to me."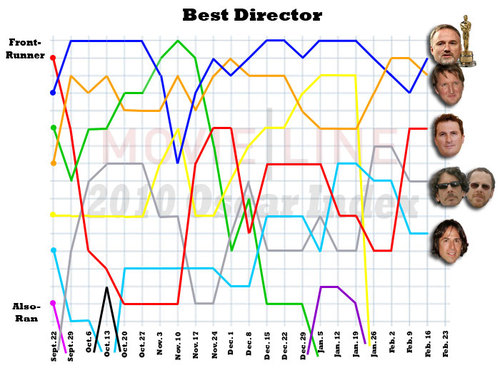 The Nominees:
1. David Fincher, The Social Network
2. Tom Hooper, The King's Speech
3. Darren Aronofsky, Black Swan
4. Joel and Ethan Coen, True Grit
5. David O. Russell, The Fighter
Notes: As mentioned, Fincher's BAFTA triumph went a long way toward helping anchor what's left of TSN's loyalty among the awards orthodoxy. Upholding his general ambivalence rigorous Dragon Tattoo shooting schedule, the director himself was not in attendance, so for what it's worth, Fincher fans, there's a chance you may have seen the last of your hero's awards-season victory-speechifying at the Golden Globes of all places. We can live that, can't we? It was a good speech, no? Let's revisit:
On a vaguely related note, Christopher Nolan got a healthy helping of payback with Inception shooter Wally Pfister's win at last weekend's American Society of Cinematographers awards -- a prize largely thought intended for True Grit's Roger Deakins, whose own directors, Joel and Ethan Coen, are generally thought to have stolen Nolan's Oscar nom for Best Director. That might be the extent of the backlash, or it might be just the beginning. Either way, Team Nolan, savor what you can of that.