Mr. Sunshine Star James Lesure on Matthew Perry and His Other Favorite Friends Alum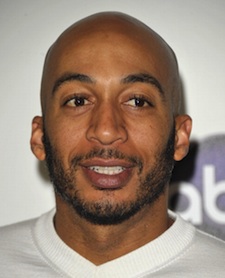 Though Mr. Sunshine stars Matthew Perry as a San Diego arena manager and Allison Janney as his unpredictable boss, it's James Lesure (as former basketball star Alonzo) who adds a sense of cool to the comic delirium. We caught up with Lesure, the former star of NBC's Las Vegas, just before last week's highly rated premiere to discuss Matthew Perry, Alonzo's stability, and his preferred Friends cast member.
Your costars Matthew Perry and Allison Janney are totems of primetime. What was it like starting to work with them?
I started getting intimidated once I started. I said, "Yo, these guys are good. I'm going to step up my game." There was some of that. I was definitely intimidated. But I had respect too, with these guys. It's nice to be in their company.
You already filmed the entire first season of episodes, right?
We finished the second week of December.
Is it difficult to talk about the show without giving anything away?
It is! This is the first time I've ever experienced anything like that. I'm interested to see what the shows look like, though, and to know the response of the people. Hopefully folks dig it. So we'll see.
Who are your favorite characters on Mr. Sunshine?
I think, though I enjoy working with the whole cast and crew, it's between Nate Torrence's character and Allison Janney's. Both of those guys have made me cry thus far. It's a toss-up between those two.
Made you cry? Should I be alarmed?
In a good way! Like, "Yo, I'm so happy to be a part of this show right now." It's just really funny to me. I'm hoping the rest of the world will enjoy it like I enjoy it.
Your character serves as sort of a counterpoint to Matthew Perry's rancor. Is he going to be any fun?
Man, I hope he's likable. He's supposed to be this really positive force of this show. He's such a solid fixture on the show, where there's a lot of zany that goes on in the sports arena.
How would you describe the dynamic between your character and Matthew Perry's?
Damn, that's the first time I'm thinking about this. I'd say we balance off each other. His character's a much bigger presence on the show than mine is right now, so I'm playing off his rhythm. Once we get into it, I think we bounce off each other well. It's pretty fluid.
I've heard from multiple sources that Matthew Perry is incredibly funny off-camera.
Really? I've yet to see it. I'm waiting for -- nah, I'm kidding. I discovered that myself as well. He's a funny dude, personally and professionally. The thing I've been most pleasantly surprised by -- maybe the most -- is how smart he is. He really knows what's going on in the industry. He's writing as well, so he wears a few hats. For him to be so adept at what he's doing has been really impressive to me. I really respect it about him.
This show is quirky. Do your favorite TV shows share that vibe?
I used to love that Bruce Willis show Moonlighting years ago, with Cybill Shepherd. The Cosbys I grew up loving. Cheers, Happy Days, What's Happening too.
Everyone I've ever asked about favorite TV picks Cheers. Everyone.
It's just a warm, fun feeling! If we can capture that, we'd be doing something really nice. Cheers just always made me feel warm and fun. I don't know.
Finally, who's your favorite cast member from Friends?
Yeah, I'm gonna go Jennifer Aniston. All day, every day.