Late Night Highlights: January Jones Trashes South Dakota, Talks About Dating Jews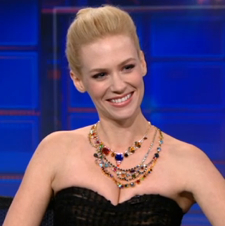 On the Monday edition of The Daily Show, an awkward January Jones criticized her home state of South Dakota before moving on to more important things -- like the Jewish gentleman she brought back to her family. Meanwhile, Justin Bieber serenaded a senior citizen (is this kid always on late night television?), Conan gave his creepiest producer tips on romance, and a Modern Family star punched a woman in the face.
4. A Modern Family Romance
Modern Family star Eric Stonestreet visited Jimmy Kimmel Live to explain how he celebrated his first Valentine's Day with his onscreen lover, before talking about the time he punched an Australian woman in the face.