The 8 Most Cynical Moments at the Oscar Podium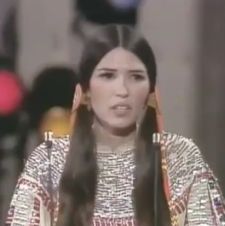 When an Oscar winner proceeds with a cursory speech about agents, directors, producers, and co-stars, it's easy to forget why we wait all year for the ceremony. However, once every few years an an angel of hilarious rancor descends into the Kodak Theater, adding snide flair to these nominally staid acceptance speeches. Here are the 8 best moments in cynical Oscar acceptance; some are more lighthearted (and funnier) than others, but all have a lasting aftertaste.
8. Jane Fonda: "There's a great deal to say, and I'm not going to say it tonight. I would just like to thank you very much."
Somehow, Jane Fonda's reticence following her win for 1970's Klute stung more than her usual brand of articulate revolt. The year prior, she'd gestured in support of the Black Panthers before losing her They Shoot Horses, Don't They? Best Actress nomination to Maggie Smith, but upon finally winning, her stoic speech came off as vague and a smidgen self-important. "There's a great deal to say," she says? About what? The movie? Your director? Tell us next time!
7. George Clooney: "All right, now I'm not winning for director."
George Clooney was the jack-of-all-trades at the 2006 telecast, having been nominated for co-starring in Syriana and directing Good Night, and Good Luck. After picking up the former award, he began his speech with the aforementioned quip. In a more un-sarcastically snide moment, he congratulated Hollywood for "talking about AIDS when it was only being whispered" and giving Hattie McDaniel an Oscar when "blacks were still sitting in the backs of theaters." True, but Hollywood loved itself so much for awarding Ms. McDaniel that it didn't award another black actor a win for 25 years. Just ask Whoopi Goldberg.
6. Costumer Sandy Powell: "I already have two of these -- so I'm feeling greedy."
A disclaimer: I love this speech. Succinct, smart, and cheeky, The Young Victoria's costumer Sandy Powell acknowledged the Academy's ridiculous history of almost exclusively honoring period pieces in the Best Costumes category. But perhaps she started that oratory on a cringe-worthy note when she blithely referred to her two other wins. Perhaps we'll see another version of this speech if she wins again this month for The Tempest.
5. Michael Moore: "We live in fictitious times. We have fictitious election results that elect a fictitious president."
At least if you're a documentarian, you have some footing to wreak political havoc on a crowd of bigwigs. Michael Moore, who won Best Documentary for Bowling for Columbine in 2003, began his speech about the power of nonfiction filmmaking and morphed it into an anti-Bush tirade that resulted in a storm of boos. He got in one last "Shame on you, Mr. Bush!" before the music drowned him out, succeeding in making the most incendiary speech of the past decade.
4. Faye Dunaway: "I didn't expect this to happen quite yet."
Notorious Bette Davis ruffler Faye Dunaway won an Oscar for Network after losing her two previous nominations for Bonnie and Clyde and Chinatown. The first line of her brief speech indicated that maybe she expected to win for some period piece further on in her career, but not Network. Still, she expected an Oscar win at some point, and she wasn't ashamed to admit it. Fabulous and snide!
3. Sacheen Littlefeather: "Marlon Brando has asked me to tell you, in a very long speech which I cannot share with you presently -- because of time -- that he must -- very regretfully cannot accept this very generous award. The reasons lie in the treatment of American Indians today by the film industry and on television in movie re-runs, and also in the recent events at Wounded Knee. Thank you on behalf of Marlon Brando."
Marlon Brando's proxy who accepted his award for The Godfather was not Francis Ford Coppola or even Abe Vigoda: It was Sacheen Littlefeather, a member of the American Indian Movement who was supposed to read Brando's 15-page letter about the misrepresentation of Native Americans in cinema when she arrived at the podium. Since producers threatened to kick her out of the building if she dared to read the huge missive, she improvised a quick explanation for Brando's absence. Somehow, the worst part about this is Brando's absence. He forced a nameless activist to face a crowd of boos at a Hollywood reception while he sat comfortably at home? It's not like he didn't accept his first Oscar in person. Puzzling and quintessentially Brando.
2. Vanessa Redgrave: "I think you should be very proud that in the last few weeks you've stood firm and you have refused to be intimidated by the threats of a small bunch of Zionist hoodlums, whose behavior is an insult to the stature of Jews all over the world."
First things first: Have you ever seen Julia? It's bizarre. It's entirely about Lillian Hellman (played by Jane Fonda), but we're supposed to be intrigued with Vanessa Redgrave's titular character, who appears for seconds at a time and has no dynamic personality traits other than anti-Nazi activism, which mostly occurs off-screen. It is a gorgeous, pretty-much senseless movie. Anyway. Ms. Redgrave unleashed this monologue midway through her speech for Julia (while referencing her work in a documentary she made that year about PLO), and as we well know, nothing is snider than self-important political musings at an awards show.
1. Paddy Chayefsky: "I would like to suggest to Miss Redgrave that her winning an Academy Award is not a pivotal moment in history, does not require a proclamation and a simple 'Thank you' would have sufficed."
And somehow, the only thing snider than pontificating is pretending you aren't pontificating. Network scribe Paddy Chayefsky, who took the podium at the '77 Academy Awards to present a screenplay award, extemporaneously snuffed Redgrave for her speech. You can disagree with Redgrave and even loathe her self-important speechifying, but using the Oscar dais to set rules for self-expression? Terminally lame and condescending.