Splatter Film Pioneer, Producer of Blood Feast David F. Friedman Dies at 87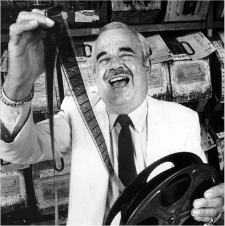 Producer David F. Friedman, who many say created the splatter film when he collaborated with director Herschell Gordon Lewis on the 1963 film Blood Feast, has passed away at 87 from heart failure. Blood Feast had a thin plot involving a murderous Egyptian caterer who decapitates women (usually naked ones) and contained copious nudity, buckets of blood and not much else. From what I recall, it didn't even contain sound effects during the murder scenes, besides dubbed screaming. He went on to produce cult classics like Ilsa: She-Wolf of the S.S., and the clever, often hilarious gore film Two Thousand Maniacs! And apparently, he really liked fun.
According to his IMDB bio, he dabbled some in soft-core erotic movies, but balked at the idea of directing any hardcore films in the '70s, saying that they were "not as fun." Then, after he retired, he said he would occasionally help produce independent horror and erotic films "just for fun." And according to a New York times interview with Mike Vraney from Something Weird Video, "He partied like an animal. He ate huge meals, drank and smoked enormous cigars. He lived with gusto." He also provided airline vomit bags for theaters to distribute to customers to help promote Blood Feast. If only horror movies still pulled stunts like that.
And so, in celebration of fun and of Friedman, here is the trailer for Two Thousand Maniacs!, probably the most good-natured and playful film ever to feature a man being pulled apart by horses.
[NYT]