Liam Neeson Is Having 'Lots of Sex' and 8 Other Revelations from the Unknown Junket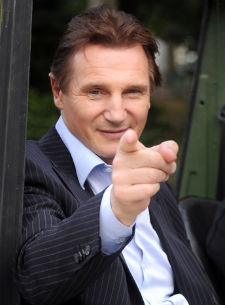 Liam Neeson continues his second career as a bone-crunching, gravelly-voiced action star in this week's Unknown, a Berlin-set thriller following a scientist (Neeson) who wakes up after a freak accident to find that his wife (January Jones) no longer recognizes him and another man has assumed his identity. Though it begins in a quietly eerie reverie, momentum builds as Neeson reclaims his life in a grand, explosive finale -- kind of like the film's Los Angeles junket, where the cheeky Neeson livened up an otherwise sedate press conference, quipped freely about his sex life, and gamely endured Movieline's own terrible Liam Neeson impression. More revelations after the jump:
1. First things first: The makers of Unknown would really like you to refer to the film as "Hitchcockian."
Starting things off on message, Liam Neeson called Unknown an "edge of your seat thriller" and a throwback to the noir-tinged films of the '40s, '50s, and '60s before director Jaume Collet-Serra, co-star January Jones, and screenwriters Oliver Butcher and Stephen Cornwell continued the Hitch name-dropping. Example: Why was Jones cast? Because she resembled a Hitchcock blonde. (And she's like, um, talented and stuff.)
2. Liam Neeson's default setting is "charming."
We already knew the Irish rogue could be a bit frisky with the press. So it was a welcome ice-breaker when the husky-voiced star warmed up the room with increasingly suggestive quips. "It was the coldest January and Feb in 20 years," Neeson said, remembering the Unknown shoot. "Treacherously cold, frost on the ground, ice. And as you saw, there's lots of physical activity outside. It was a challenge, just to execute the film in those sorts of conditions. [Pause] But somehow it made us all... closer." And, adding a note on his co-stars Jones and Diane Kruger: "It was very easy on the eyes, first thing in the morning."
3. Two bits of random Unknown trivia you never knew you needed to know.
Movieline can't hate too much on journalists who ask seemingly inane questions at press junkets. Because sometimes, as a reporter, you have to ask the hard-hitting questions of talent for a story. Questions like, "How many Mercedes Benzes did you use while making the film?" The answer, from director Collet-Serra: "About 30. Probably we wrecked 15 or 20, and we used more than 40." [And, to file away in your Liam Neeson UberFan Blog: Yes, Neeson is addicted to toothpicks.]
4. Liam Neeson is grateful for what Taken has given him.
Asked what it was about the Unknown script that piqued his interest, Neeson credited good writing and acknowledged the action hero status he's enjoyed since the gleefully violent Taken birthed a subgenre now (as of this moment) known as Neesploitation. "I seem to have gotten a new lease on life since Taken was successful," Neeson said with a mischievous smile. "So at the age of 58 -- I'm sorry, did I say 58? It's 37 -- it's great to get an action hero role."
5. Liam Neeson is the Burt Lancaster of his generation.
Asked if he's consciously balancing his dramatic character work with his newfound action star career, Neeson pointed to Lancaster as a role model of sorts. "I always like to think of what Burt Lancaster said years ago," Neeson explained. "He said he acts with his hair; when he's doing a studio movie he wears a wig, and when he's doing an art house movie he shows his bald patch."
6. January Jones will bow to no journalist's bluntly-posed question. We'll let the query and answer speak for themselves:
Journalist: "January, you're such a horrible mother on Mad Men. You're like an ice queen or something. For your movies, do you figure that you like to do something warm and sweet, which is what you initially appear to be in this movie?"
Jones: "What's fun about that? Am I typecast as being horrible? I mean, maybe. It's kind of great, isn't it? I try to always do something different. I don't think this character has anything to do with anything I've ever done, and it just keeps me interested in the job to do all kinds of different things. I think the 'sweet' can be kind of boring. So I'll try to stay away from that for everyone's sake." In other news, we have a crush on January Jones crush that grows with each candid truth-bomb that comes out of her mouth.
7. The real secret to keeping fit at the age of 58? Lots of sex.
Filming Unknown required its cast to perform a handful of dangerous stunts, like running on icy sidewalks and diving in and out of a car at the bottom of a water tank, which induced at least one panic attack for Neeson. But for the most part, Neeson waved off the strenuous work. "I don't do my own stunts. I do my own fighting, which I don't regard as a stunt, but my dear friend and stunt double Mark Vanselow does all my heavy duty stuff." Prompted to reveal his exercise regimen, Neeson went off the cuff. "[I do] the usual things. I keep fit as much as I can. Just my own private stuff. [Pause] Lots of sex."
8. On Unknown's "Yippee ki-yay" moment...
Like Taken's "I have a very particular set of skills," Neeson's "I haven't forgotten everything; I still remember how to kill you, asshole" line in Unknown has the potential to take on cult status. Collet-Serra reflected on the importance of nailing a quotable catchphrase. "For me it was important as an audience member," he explained. "I remember watching these action movies, watching Die Hard and having Bruce Willis deliver those lines. I felt excited. So I want the others to be excited and it reflects the spirit of the movie."
9. About that line... Liam Neeson has a really good sense of humor. Thankfully.
Naturally, Movieline had to recite said Liam Neeson line to Liam Neeson in our best raspy Liam Neeson voice. Though he didn't respond in kind (awestruck by the spot-on mimicry, perhaps?), he good-naturedly played along. (Added bonus: January Jones gave her approval: "That [line] you just said was pretty great -- both deliveries.") And since he chuckled and didn't murder Movieline to death with his bare hands and a toothpick, we assume he enjoyed the momentary roast.