Get Your Tickets For Movieline's Oscar Viewing Party in NYC!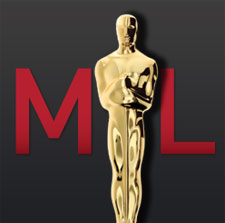 After an inaugural barnburner featuring a historic Oscarcast and a packed house of 200 viewers, Movieline has officially re-teamed with 92YTribeca to present our second annual Oscar Viewing Party in New York. Tickets are on sale now -- prepare your tux or evening gown for the night and read on for details.
All right, fine: Formal wear is optional, but you and yours are encouraged to dress up and join Movieline's NYC crew on Feb. 27 for all the screen-heckling, speech-parsing, fashion-commenting, Jacki Weaver-lauding action you can stand. The low, low price of $10 gets you in the door and entitles you to a complimentary glass of Champagne; we'll also revive our high-stakes Oscar pool, which is open to all attendees and promises such prizes as Eleni's Awards-Season cookies, hot tickets to 92Y events, and other delights. Our hosts, comedians Jon Friedman and Sara Benincasa are guaranteed to bring joy to even the most vexed Social Network devotees.
Visit the 92yTribeca site for location and ticket information, and while you're there, don't forget to check out their ongoing film program Before They Were Nominated. It's pretty much what it sounds like -- and it continues Wednesday and Thursday with The Professional (starring screen rookie Natalie Portman), The Squid and the Whale (with Jesse Eisenberg), and a very rare screening of screenwriting nominee Danny Boyle's directing debut Shallow Grave. Hope to see you there!