Dianna Agron on I Am Number Four and Surviving Michael Bay Explosions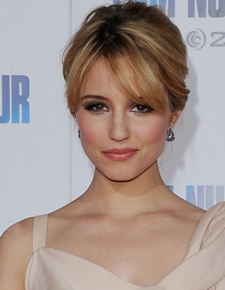 Just eighteen months ago, you'd be hard pressed to pick Dianna Agron out of a line-up of beautiful blond actresses. But now, after the Georgia-born beauty achieved widespread recognition for playing former head Cheerio Quinn Fabray on Fox's hit series Glee, the actress is celebrating her first leading role in a feature film. In D.J. Caruso's I Am Number Four, a teen science fiction film premiering this Friday, Agron plays the shutterbug love interest of a super-powered alien trapped in the body of a hunky high school student (played by Agron's real-life love interest Alex Pettyfer). Although Agron is again playing the graceful, soft-spoken object of someone's affection, I Am Number Four -- which was produced by Michael Bay and Steven Spielberg -- contains explosions, violence and a serious lack of song and dance. Sorry, Gleeks.
In anticipation of the film's release, Agron spoke to a few reporters, including Movieline, about her transition into film, her love for sci-fi and her range of explosion faces.
On the transition from television acting to film acting:
"On TV, we joke that we hardly ever see our trailers. There might be one day where you're waiting around for four hours in between scenes and you think, 'Oh man, what do I even do?' On movie sets, you do have more time and there are bigger set-ups, more crane shots and things like that so there are more breaks. When I was young, about 8, I told my mom, 'I want to be an actor.' She said, 'Ok, well there's a lot of waiting around. What would you do during that time?' I said, 'I'll read.' And I do. I bring books to set or sometimes I'll watch someone else's scene."
On working with those legendary Michael Bay explosions:
"All of the action sequences were shot at the end of [the production schedule]. So I had gotten all the things that were comfortable for me as an actor out of the way. Then, my first day of all of the running and ducking and explosions, I realized that I had to come up with different reaction faces. Because one explosion is bigger than another explosion, so I wanted to make sure that I wasn't making the same face. Maybe I over-thought it at first but then you get the hang of it and it's fun."
About the one explosion that went wrong, and the reason why Agron was not fearing her own death:
"You had to really use your imagination because those things aren't always there -- the explosions. Although, there was one. For a big football field scene, [production] was doing a test to show us what [the explosion] was going to look like. There were four stand-ins imitating the four main characters, and the director yells, 'OK, everyone get ready!' There's this huge anticipation...and then [the explosion] doesn't go off. Then they did the explosion the second time and the opposite happened: it was too much. The four stand-ins were just covered in dirt, hair, soot, leaves everything. Then production said, 'OK, we're going to do one in the middle. They were such professionals though, to the point of, they would say if anyone was too far away from their mark, the cannon wouldn't go off so they wanted everyone to be safe."
On her own affection for science fiction:
"I am such a sci-fi fan. I've always been really keen on fantasy and sci-fi since I was a kid. So this was really exciting to do a project that involved those themes. If it were up to me, those would be the only kinds of projects I would do because they're so fun. I guess you have to have a somewhat versatile career though."
About a possible I Am Number Four sequel:
"I think [box office] will be the determining factor. If it does well, we might get a chance to continue on with this journey which would be fun."