When Lea Michele Met Barbra Streisand: A Play in Two Tweets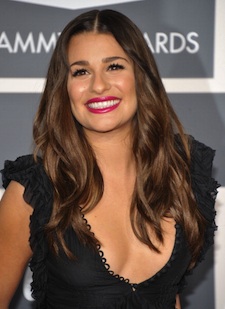 To say that Lea Michele has been waiting to meet Barbra Streisand for a long time is a bit of an understatement. When Movieline caught up with the Glee star last summer to play My Favorite Scene, all she could talk about was Babs' star-making turn in Funny Girl. "I just related to that movie so much," she said. "It's my favorite movie ever." As anyone who saw her performance at the Tonys -- or any minute of Glee, in general -- can attest, she wasn't lying. So, what would happen if Michele ever got the opportunity to meet Streisand out in public? Some hyperventilating and tweeting, of course.
"As if this night at the Grammys wasn't amazing enough...waiting at the valet... Mrs. Barbra Streisand came up to me," Michele tweeted following the ceremonies on Sunday night. "I can barely breath."
"She was so wonderful, kind and beyond nice," Michele continued. "I can't believe I just met my idol. I feel so blessed and thankful right now."
Michele might not have been feeling thankful on Friday night, when Streisand inadvertently ripped Glee. Asked by EW whether or not she would appear on the hit show, Babs replied, "Not if I can help it." Naturally, this caused much consternation among the Glee faithful, enough that Streisand took to her website to clarify.
"When asked if I would ever appear on Glee, I should have said, 'You never know,'" she wrote. "It was wrong to say, 'Not if I can help it.' What I meant was that I've been overwhelmed preparing for my performance on MusiCares, the Grammys, recording a new album, and starting a new movie. So I couldn't take on any more work, and besides that, I wasn't asked."
To save yourself some trouble, just add Streisand to the Glee casting rumors alongside Javier Bardem, Susan Boyle, Elton John, a boyfriend for Mercedes and Anne Hathaway.