Marlon Brando Wrote Better Love Letters Than You, and 7 Other Stories You'll Be Talking About Today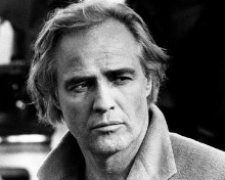 Also in this Valentine's Day edition of The Broadsheet: Marion Cotillard might also be cast in The Dark Knight Rises... Radiohead announces that they will release a new album in less than a week... Die Hard 5 gets a director... and more ahead.
· "There is something not quite definable in your face -- something lovely, not pretty in a conventionally thought of way. You have something graceful and tender and feminine (sp). You seem to be a woman who has been loved in her childhood, or else, somehow by the mystery of genetic phenomena you have been visited by the gifts of refinement, dignity and poise." Marlon Brando wrote this letter to a flight-attendant with whom he did not speak. To those still trying to find the right words for their Valentine's Day card: Consider the gauntlet thrown down. [Letters of Note]
· French Newspaper La Figaro has reported that Marion Cotillard will be playing a role in The Dark Knight Rises. Surely, rumors of Ellen Page and Leonardo DiCaprio's involvement are just around the corner? [Le Figaro via The Playlist]
· Hey, how about some hype that doesn't drag out for over two years? Radiohead have just announced that they will release a new album, King of Limbs, this Saturday. Feb. 19. Seriously. [King of Limbs]
· Apparently, Smart People director Noam Murro will take the reigns for Die Hard or Die Trying. Besides Smart People, Murro has directed numerous commercials, including those Halo ones that everyone liked. Those especially interested in the film can check out more of his previous commercial work on his director's page at Biscuit Filmworks. [THR]
·Charlize Theron is now confirmed for Ridley Scott's not-an-Alien-prequel Prometheus. Also, according to her co-star Michael Fassbender, it's sort of an Alien prequel. Quoth Fassbender: "There's a definite connecting vein between Alien and Prometheus." Okay, then! [The Playlist]
· Maybe you think Fred Armisen and Carrie Brownstein's Portlandia is genius or maybe you'd rather watch a Bridalplasty marathon than an affectionate satire about Portland hipsters; Either way, IFC has picked it up for a second season. [Variety]
· Melancholia, the new film from best-film-director-in-the-world/part-time male model Lars Von Trier, will be released in the U.S. by Magnolia Pictures. The film stars Kirsten Dunst, Charlotte Gainsbourg, Kiefer Sutherland and has been described by Von Trier as "a beautiful movie about the end of the world." You've been warned.
·Spiderman: Turn off the Dark has been hit by the State Department of Labor with two safety violations. Try to contain your surprise. [AP]