ASC Upset? Inception Wins Over True Grit at Cinematographers' Awards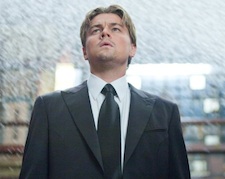 If you're getting a bit tired of The King's Speech vs. The Social Network talk for best picture (or if you're still furious that Inception doesn't really have a shot), now might be a good time to turn your attention to the Best Cinematography race. At this weekend's American Society of Cinematographers Outstanding Achievement Awards, Wally Pfister took top honors for Inception, beating out Roger Deakins for his work on True Grit. If the Oscars follow suit, this would put cinematography veteran Deakins (The Shawshank Redemption, A Beautiful Mind, many Coen Brothers films) at zero wins for nine nominations at the Oscars. After this ASC upset, what are his chances?
Well, based on the only barely-accurate science of awards-history, they are somewhere around 67%. In the previous 24 years of awards (which began in 1986), the ASC has predicted the Oscar winner only eight times. That said, they have been reasonably more accurate in the last 15 years, since all eight times they matched the academy occurred during this time period. For those still interested in useless percentages, that puts his chances at more like 47%.
But then there's the fact that none other than Deakins received a Lifetime Achievement award at the awards last night, one which voting members for the show knew about in advance. The bias towards Pfister could have come from just not wanting Deakins to dominate the stage, though Cinematography legend Conrad Hall did take home a Lifetime Achievement award along with Best Cinematography the year that he shot Searching For Bobby Fischer. Still, this year's Lifetime Achievement thing must still be taken into account. Deakins' Oscar chances are now hovering soemwhere around 58.6%.
I completely made that last number up. I'm sorry. But the point still remains that Cinematography may be one of the most wide-open, hard-to-predict categories at this year's Oscars, especially with this victor for Pfister. Who knows, maybe The Black Swan is quietly plotting another upset. Place your bets!