Two Awesome P.T. Anderson Movies Might Actually Happen, and 7 Other Stories You'll Be Talking About Today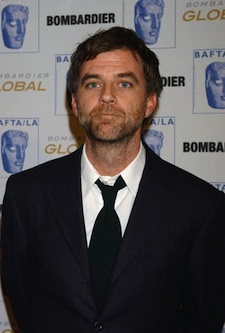 Also in this Friday edition of The Broadsheet: Charlie Sheen gives a pep talk to the UCLA baseball team... the Albert Einstein biopic you've always wanted has arrived... Lady Gaga releases "Born this Way"... and more ahead.
· Great news to close out the week: According to Vulture, Megan Ellison (the 25-year-old daughter of Oracle boss Larry Ellison, and co-financier of True Grit and the upcoming The Wettest County in the World), is prepared to bankroll Paul Thomas Anderson's Scientology film and his adaptation of Thomas Pynchon's Inherent Vice. The former was set to star Philip Seymour Hoffman and Jeremy Renner, but The Town star dropped out when it was shelved in the fall; it's thought that Hoffman would still appear, however. As for Inherent Vice, Anderson has gotten the go-ahead from Pychon and is "halfway done with a second" draft. For what it's worth -- and don't hold your breath, obviously -- Robert Downey Jr. is "said to be interested in the lead role," that of a stoner detective. Fingers crossed at least one of these projects actually gets off the ground. [Vulture]
· This is just breathtaking. Charlie Sheen was caught by TMZ cameras giving a pep talk to the UCLA baseball team. Quote Sheen: "Stay off the crack. Drink a chocolate milk." Adjust your Facebook favorite quotes section accordingly. [TMZ]
· If you've ever thought, "Man, if only Wayne Wang and Ron Bass would get together to make a film about Albert Einstein my life would be complete," then consider your life completed. [Deadline]
· Hey, Michael Bay! Anything to say about Transformers: Dark of the Moon? "It's epic and it happens in a city. It's more accessible [than Transformers: Revenge of the Fallen] because you recognize stuff -- it's not in a desert. It's kind of like Black Hawk Down with our small group of heroes in a city." Anything else? "[New Autobot] Sentinel Prime is great. He's great. I can't tell you anything else, other than he's great." All right, sounds good! See you on July 1. [MTV]
· Lionsgate is re-releasing Christopher Nolan's Memento into theaters for one night on Feb. 17, complete with a recording of the Q&A between Nolan and Guillermo Del Toro that Movieline's Jen Yamato told you about over the weekend. Click through for participating cities and theaters. [/Film]
· For once, you don't have to utter, "Should have been Speedman." Scott Speedman has been cast opposite Brian Cox in the indie crime drama Edwin Boyd. [Variety]
· Put down those virtual picks: Guitar Hero has been shuttered for now because of declining sales. Look for some Hollywood studio to attempt a film adaptation of the video game classic within five years. [NYT/ArtsBeat]
· Here you go, little monsters: Your first listen at "Born this Way", the next Lady Gaga smash earworm. If you close your eyes real tight, you can imagine what it will sound like when Chris Colfer and Darren Criss sing it on Glee.