Is Lady Gaga Ready for Her Desperately Seeking Susan Moment?
Twitter will tell you we're in the middle of #BornThisWayFriday, the climactic release date for Lady Gaga's new single (off the same-named album) "Born This Way." It's a fun, if not immediately identifiable jam for Lady Gaga, whose singles have been more sinister, throaty, and clever than this. Still, it's apparent that the pop star born Stefani Germanotta has matched her idol Madonna's early career in terms of impact and consumer devotion, except in one respect: She hasn't made a decadent foray into film, a la Desperately Seeking Susan. Is it time for Gaga's cinematic debut?
The parallels between Lady Gaga and Madonna's pop careers line up with ease: Madonna began her oeuvre with uninhibited dance jams ("Everybody," "Holiday"), as did Lady Gaga ("Just Dance"). They followed up with smashes that hinged on cheeky metaphors ("Lucky Star" for Madonna, "Poker Face" for Gaga), and soon released blockbuster sophomore albums with unprecedentedly libidinous lead singles ("Like a Virgin" and "Bad Romance"). Cutesy meditations on materialism followed ("Material Girl" and "Telephone"), and now on the eve of Lady Gaga's third album, she's set to match Madonna's True Blue, the album that really made Lourdes's mom not just a legend, but a relevant provocateur. (And both have birth-related lead singles! "Papa Don't Preach"/"Born This Way," anyone? Fine, it's a stretch.)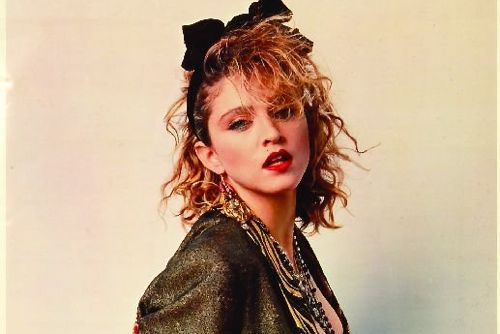 The smart thing about Desperately Seeking Susan, the Susan Seidelman film that arrived in 1985, was how it gave us Madonna as Madonna and projected her larger-than-life persona onto another outrageous character. The role at hand was Susan, a fishnetted, bangle-adorned NYC urchin who inspires a bored housewife (Rosanna Arquette) to upend her life and, through plausible complications, become Susan. Madonna wasn't acting so much as riffing on the clubby brat she'd played for years, and the film was less a departure and more a logical sidestep for her. Arguably, it cemented Madonna's strange ability to remain both mythologically enormous and downtown scum simultaneously. No doubt Lady Gaga, an NYU dropout who cut her teeth in Lower East Side clubs, wants to live on the same precipice.
Gaga has little acting experience, but I bring up this point for the following reason: She could very well be a better actress than Madonna. Shocking, I know. In her photoshoots, music videos, and even in interviews, Gaga's commitment to character is dogged and seamless. Madonna's is as well, but there's something determinedly empathetic about Gaga's approach -- she insistently calls herself a freak and outcast -- that leads me to believe she can play outside her own skin in a way Madonna can't. We're overdue for a movie that buttresses a present pop phenomenon's persona, and Gaga's just the right ingenue for the job. The other option would be Beyonce's A Star is Born, but that seems to have the potential of a bad movie we love and nothing else.
What say you? Is Gaga's big-screen debut inevitable? Should she avoid the cineplex entirely? How many years until she stars in an overblown Andrew Lloyd Webber production?
(Speaking of Madonna comparisons: Spazzerati are declaring "Born This Way" a ripoff of "Express Yourself," and I don't hear the similarities. If a bellowed self-empowerment jam is considered an "Express" copycat, then we probably need another revolution in pop, STAT.)