First Look: Greta Gerwig Hits the Beach (and Bed) in SXSW Premiere Dish and the Spoon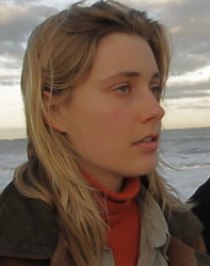 The burgeoning Greta Gerwig Dynasty expands for the second time in as many days as Movieline offers your first look at the actress's forthcoming SXW festival premiere The Dish and the Spoon. I think this is... what, the 15th? 16th? film Gerwig is set to appear in this year -- or at least the fourth behind No Strings Attached, Arthur and Whit Stillman's comeback Damsels in Distress. So what sets this one apart? It looks a little... intense, for starters. But in a good way!
Written and directed by Alison Bagnall, whose previous work includes Piggie and co-writing Buffalo '66 with Vincent Gallo, The Dish and the Spoon finds Gerwig in an altogether new character predicament:
Greta Gerwig is Rose, a woman descending into an emotional tailspin after her husband admits to an affair. Hell-bent on revenge, she drives to a boarded-up Delaware beach town to hunt down the other woman. Instead, she discovers a stranded British teenage boy (Olly Alexander) marooned on the beach. This lost boy becomes her constant companion and caretaker. The mismatched pair stumbles through a series of small adventures that build towards an unconventional romance in this funny and affecting film.
Described as a "poignant comedy," the film debuts next month in Austin at South by Southwest. In the meantime, here are the first two images to feast your eyes upon: Nap time, and beach time. It's like your last vacation! Except Greta Gerwig is there.
[Click for bigger.]