American Idol Hollywood Week: My Heart Barely Goes On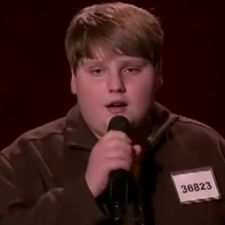 Confession! I forgot something about the first episode of Idol's "Hollywood Week," which in many ways is my favorite stretch of the season: You sometimes don't see nearly enough singers, and for that you feel shafted. I know I do! Mathematician Ryan Seacrest claimed 168 people survived the first cut, but we only saw a meager sliver of that swath. Let's slice up as many of the remaining candidates as possible and figure where our allegiances lie. (Spoiler: I hate some of them!)
Paris Tassin: "My Heart Will Go On"? A medley of "I Would Do Anything for Love (But I Won't Do That)"/"Macarena"/"Humpty Dance" would've been classier. I can't root for you if you choose an "anthem" that still makes me say, "Please freeze to death already."
James Durbin: James Durbin, the king of pain, squawked up an Adam Lambert whippoorwill with his cat-enjoying-a-heart-attack rendition of The Beatles' "Oh! Darling." The newly unemployed father really does seem to overcome his setbacks (some of which include Tourette's and Asperger's) onstage. He oversold his performance, yes, but I'd still diagnose his voice with high-functioning rawtism.
Lauren Alaina: What a cute little girl who is being pimped to death. Her "Unchained Melody" version soared, but for a Nigel Lythgoe power slave, she doesn't have stage presence. Or am I missing something? To me, her voice is a competent. It can handle any Trisha Yearwood song it wants. But I don't think she's our Idol, ladies.
Brett Loewenstern: I'm about through with 1) these meek Alex Lambert warblers, 2) their unassuming sad voices, and 3) manes of carrot-red hair. Just in general. Brett, stop being pitiable.
Rachel Zevita: Rachel approached the stage by announcing, "How you doing, Hollywood?!" like Ne-Yo or something, and that set me into an annoyed rage. Her take on Duffy's "Warwick Avenue" was fine enough, but she will get irritating starting yesterday.
Thia Megia: Unexciting. Except for the stripes. You know I think colors is cool.
Jacee Badeaux: Old-beyond-his-years teenager Jacee sang "Bless the Broken Road" like any of your favorite 67-year-old townies at the local tavern. He has a sweet tone, but he conjures as much onstage fire as a couple of twigs.
Robbie Rosen: Cocky little smile-monger Robbie Rosen powered through "Moody's Mood for Love" like the curly-topped demon he is. He's not modest, he's barely likable, but he was fine, I guess. He even wore a jacket with the sleeves rolled because he knows the Idol wardrobe department loves that sh*t.
Chelsee Oaks: My favorite contestant whose name could also be a mall, Chelsee Oaks twanged the hell out of a nameless country jam. (You know I don't listen to that crap.)
Rob Bolin: Actually: Rob is one of the best singers in the competition. Unfortunately: We've heard versions of this voice time and again on Idol, including in lame-duck paint salesman Lee DeWyze. I disliked that man.
Jacqueline Dunford: Her boyfriend Nick Fink was always a dog, and I'm glad his hammed-up, hunched-over theatrics were voted the hell out. Nice pearly blazer, dude. Meanwhile, Jacqueline's huskier voice (and admittedly unremarkable Forever 21 attire) were certainly worthier of the green light. You go, slightly-embarrassed-girlfriend!