Berlinale, Day 1: The Miracle of Flight, and Seeing More Than Jeff Bridges' Earlobe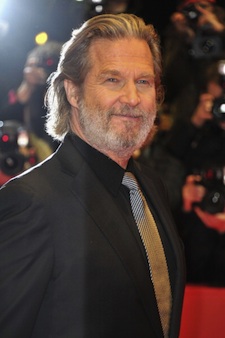 Yes, airline security is a major pain in the ass, and the food is not to be believed (was that whitish blobby mass of hormones supposed to be chicken?), but to paraphrase the marvelous and eminently reasonable Louis C.K., I have experienced the miracle of manned flight and am now in Berlin, where, after extracting euros from a hole in the wall (miraculous!), having a nap and attending to some random business, I'm ready to start moviegoing in earnest tomorrow.
I've been brought here as a guest of the 61st annual Berlinale, to participate in the Talent Press Program -- an arm of the festival's Talent Campus -- which entails a week's worth of workshop sessions with young critics from around the world. (This is my fourth year participating in the program, and I suspect I learn as much, or more, from these young critics as they do from me.) Those sessions, too, begin tomorrow. But in between, the idea is to see, and report back on, as many movies as possible in my all-too-short eight days here.
Now I sadly report that I saw no movies today: This is the first day of the festival, and I've already seen the opening film, True Grit (which is screening out of competition), twice: Although I respect and admire it, I'm not sure I feel enough affection for it to see it again. I was also invited to the Berlinale opening reception afterward, but the first rule of my not-so-patented and only marginally successful jet-leg avoidance system is, "no partying on the first night of a festival that has required me to cross international time zones." OK, I pretty much never party on any night of any festival, but that's another story.
My rather nun-like festival-going habits aside, I did, however, wander by the Berlinale Palast -- the hub, the hotspot, the mothership of the festival, a large and somewhat luxe theater where all the premieres and many of the press screenings are held -- to see if I could catch some of the opening-night red-carpet action in person. I arrived, as is my wont, just in time to see Hailee Steinfeld -- in a Samurai-ballerina bun and what appeared to be some sort of shiny black T-shirt adorned with a white swan -- bringing up the rear of this glitzy procession. The other stars, Jeff Bridges and Josh Brolin, and the directors, Joel and Ethan Coen, had already made their way up all that daunting crimson business, and were waiting for Steinfeld to join them for their final group photo before entering the theater.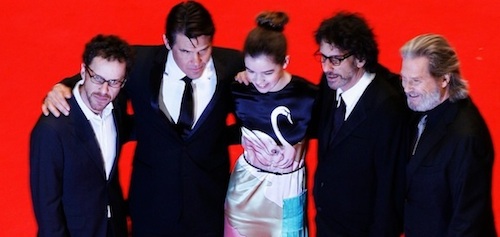 I didn't see this first-hand, mind you: At festival time the Palast, in the heart of Potsdamer Platz, is a magnet for stargazers. And so, as it is at most major festivals, the red-carpet stuff is projected, arena-rock-show style, on giant elevated screens outside. And that, trust me, is the best way to see it -- outside of arriving hours beforehand and staking out a spot that might, if you're lucky, allow you to see Jeff Bridges' left earlobe and a portion of Josh Brolin's elbow. The camera followed the stars and filmmakers right into the Palast, where they stopped to sign giant individual portraits posted at the top of the stairs just outside the actual theater. (Brolin, scamp that he is, mimed drawing a quick, self-deprecating mustache and beard on his own picture.)
It occurred to me that if I'd been inside the theater waiting for the movie to start, I would have seen the exact same thing projected on the screen before me -- which is fine, as far as it goes. But it's another example of how being on the "inside" -- if you could call it that -- isn't always all it's cracked up to be. Seeing Bridges, Steinfeld and Brolin (not to mention the Coens, the Mutt and Jeff of filmmaking, and I say that with cuffing affection, not derision -- at least this time) on that big screen was a reasonable-sized shot of glamour for the end of a pretty long day. And after it was over, I and hundreds of other on-lookers like me wandered off, with minimal fuss, to do other things with our night: Have a drink, grab a late dinner or, in my case, get cracking on that gold-star jet-lag avoidance regime. Almost being there isn't always the next best thing to being there; sometimes it's better.
[Photos: Getty Images]