Watch Jon Hamm and Paul Rudd Discuss Buttholes, Jay Leno at Brooklyn Book Reading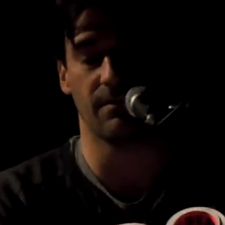 If you've ever fantasized about Jon Hamm whispering sweet nothings about buttholes into a microphone at a packed standing-room-only book reading, you're in luck: the handsome Mad Men actor did just that at a show in Brooklyn on Tuesday night to celebrate Jon Glaser's new book, My Dead Dad Was in ZZ Top. Hamm read about the origination of the alt-rock band Butthole Surfers while fellow actor Paul Rudd assumed his best Jay Leno impression to perform a chapter about ConanGate.
The first book from Jon Glaser -- an actor, comedian and former staff writer on Late Night with Conan O'Brien -- consists of a series of (fictional) documents from rock and roll figures. Allow Jon Hamm to introduce you to the book with this dramatic reading of a Butthole Surfers essay.
And now, enjoy as Paul Rudd channels his best Jay Leno to voice fictional letters written from The Tonight Show host to aspiring band leaders.
[via Huffington Post]