Fantasia Barrino to Play Mahalia Jackson: Is She Our Second Idol Oscar Winner?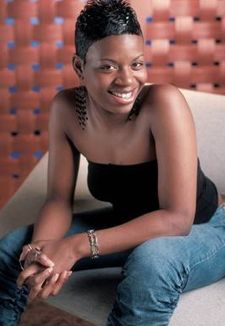 Fantasia Barrino earned rave reviews for playing Celie in Broadway's The Color Purple, but is the oft-troubled American Idol alum suited for a big-screen triumph? According to a new report, she's set to play gospel legend Mahalia Jackson in director Euzhan Palcy's film adaptation of the 1993 book Got to Tell It: Mahalia Jackson, Queen of Gospel. Let's start with the pettiest question: Is Fantasia a worthier post-Idol Oscar contender than Jennifer Hudson or not?
Jennifer Hudson's Oscar-win for Dreamgirls is tainted by one sinister fact: That movie is bad. I still remember the symphony of groans in my theater when Jamie Foxx tore into "Family." And by "tore into" I mean "eerily cooed." Dreamgirls was an overblown, plot-deprived film made worse by the world of hype surrounding it, and Jennifer Hudson managed to secure a Best Supporting Actress Oscar during a year with little competition (save, perhaps, Rinko Kikuchi in Babel), even if she did sell the big number "And I Am Telling You I'm Not Going." A biopic about Mahalia Jackson, on the other hand, is an intrinsically provocative subject matter given the singer's difficult upbringing, her incredible career, and involvement with the civil rights movement. If any role should be good to enough to deserve an Oscar, this is it -- and I have faith in Fantasia Barrino to give her the sweet, but fiery touch she requires.
Look. Even when she's barely using her voice, Mahalia Jackson is compelling. You want to see a movie about this woman.
· Fantasia Lands Lead in Mahalia Jackson Biopic [THR]