Ed Helms on Cedar Rapids, a 'Big' Hangover II Spoiler and Sleeping with Ellen Ripley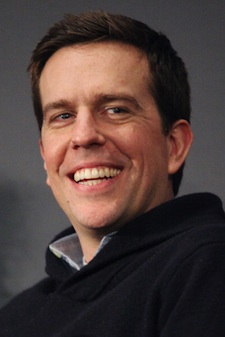 Ed Helms is noticeably more anxious than the last time we spoke. In 2009, Helms was promoting his supporting role in a little film The Hangover -- a film which you'll recall went on to become the highest grossing R-rated comedy of all-time. Back then, Helms was just a co-star; now he's both the lead and executive producer on Cedar Rapids, a Sundance favorite about a mild-mannered insurance man from Wisconsin who heads to Cedar Rapids and has more than a few life-changing experiences. As the saying goes, "What happens in Cedar Rapids, stays in Cedar Rapids."
The film -- which co-stars John C. Reilly, Anne Heche, Isiah Whitlock Jr. (of The Wire fame) and Sigourney Weaver -- is out Friday, though it won't be the only chance Helms fans will have to see their favorite goodnatured star on screen in 2011. There's also a little film called The Hangover II due in May. Movieline spoke to Helms about wearing both hats as actor and producer, his potentially "offensive" character Tim Lippe, what we can expect from The Hangover Part II and -- as a child of the 80s -- what it's like to sleep with Ellen Ripley.
As a guy who grew up in the 1980s, while filming, did the thought ever go through your head, Hey, I'm in bed and Ellen Ripley is sitting on top of me.
Absolutely! I mean, that's all I could think about the whole time. I thought a jealous Alien was going to tear through the window and chomp my head off.
That would have been an unexpected twist to the film.
Yes! Absolutely, but then you meet Sigourney Weaver she's even that much more attractive. She's such a benevolent, gracious, elegant woman.
You grew up in Atlanta, correct?
Yes.
There are some similar traits to that area and the Midwest...
And I went to college in Ohio.
OK, so you do have quite a bit of time spent in the area. That seems like a tricky region to nail, as a character. There's a fine line between "nice guy" and "rube." Were you conscious of this?
I don't think "rubes" are all that interesting. You know, in comedy, rubes are typically people that we laugh at, but I wanted to portray Tim with much more sympathy. I never thought in terms of like, "This will be funny." I never approach those scenes as a way to find laughs at Tim's expense. As much as to make Tim's earnestness try to come through. And when he's challenged, every little minutia is like a moral cataclysm for him. And that, to me, is kind of heartbreaking and funny.
So Rob Corddry kind of briefly fills the part of the tough guy-rube?
[Laughs] "Tough guy-rube," is there such a thing? Well, Corddry's character doesn't have a whole lot of dimension in this movie because it's painfully too short. It's way too short of a role. But, yeah, he got to explore the real agro side of himself [laughs], which is really fun.
I know that you were worried that Isiah Whitlock's scene in which he mentions The Wire might come off "too meta," but at least Corddry wasn't wearing clown makeup with no explanation.
[Laughs] You're right! That would have been too far. Although, it probably would have helped the film because, God knows, Children's Hospital has an insanely loyal fan base. And well deserved.
Have you ever been in a similar situation as Tim? The classic fish out of water?
[Pauses] Um... yes. I can tell you this, when I was a junior in high school my buddy and I went on a college trip to visit potential colleges. So we basically went on a road trip on a holiday weekend through UNC, University of Virginia, all of these big southern party schools. Our older brothers were at the age where they had buddies in all of the fraternities, so we stayed in these fraternity houses as juniors in high school and we were both just like, "Oh my god! What is this universe?" Like, "How do we fit into this?" It was absolutely overwhelming and crazy. So that might be a situation where I felt like an actual rube. And it has parallels to Tim Lippe coming in and being away from home with no consequences and everyone around you is sort of challenging what you think is right and good.
Do you think that someone who grew up and still lives in the Midwest will like this movie? The film pokes a lot of fun at religion...
Well, I don't think that's a Midwestern joke. And the answer to your question is "yes." I do think that Midwesterners will -- I sincerely hope that Midwesterners like this movie. And the reason that I think that they might is that this movie is made by people of that world. And we used the Midwest as a backdrop for a story that really is, hopefully, the story transcends the context and it's just an entertaining story. I don't think any of the comedy is exploitive. In fact, Alexander Payne was adamant about avoiding clichés in both the dialogue and in a lot of the more subtle decisions like the dinner scene with Anne Heche. It was written to be at an Applebee's or an Olive Garden, or something. Alexander Payne was like, "Um, that's patronizing to Midwesterners. Why don't you put it in a sushi restaurant because that's just as likely to exist in Cedar Rapids and why not give the actual texture of the Midwest instead of going for clichés?" And even though Phil and I were both already careful about it, Alexander sort of called us out on it in a few ways that we had kind of just gone the easy route. And that was very, very cool.
Have you received any feedback?
I did get some questions where people thought the character of Tim Lippe was offensive because he's such a rube, like we said before. But I feel like Tim Lippe is a very specific, unusual, character -- even in the context of the Midwest. And, you know, if Tim Lippe went to New York City and was overwhelmed, then, yeah, you might be making fun of a Midwesterner, fish out of water. But he goes to Cedar Rapids! And he's overwhelmed by Cedar Rapids. So it's not like we've created the dichotomy between "sophisticated big city" and "the country bumpkin." We've actually sort of taken that archetypal story and contained it all within the Midwest. So you get all of the different shapes within the Midwest.
Is there added pressure being a producer? Is it an entirely different experience to say hoping a film your in does well but, really, that's someone else's problem?
It's very different, yes. In this case, for me, it meant that I just had a much more active role in the execution of the entire project. It wasn't just my part as an actor. So Phil Johnston, the writer, came to me with this idea very early on and it was just an idea at that point. Then we started collaborating and figuring out these characters in this world and he went of and wrote the script. Then the two of us started to shop it around. We took it to producers and, thank God, wound up with Alexander Payne snatching it up. It was an intense labor of love, top to bottom for me and it's an incredibly gratifying and exciting experience. And my first time through the whole rigmarole. So I love it because it gives me the illusion of control over my career, but I also love the challenge and seeing something through start to finish.
You mentioned earlier at the press junket that your only real life experience with insurance was a fender bender and the other party showed up in court wearing a neck brace and it reminded you of The Brady Bunch. Did you throw a book on the ground in an effort to make her turn her head, proving that she was faking?
That is The Brady Bunch, right? No, but I should have. I wonder if that's been used for real. I guarantee you that it has.
Mike Brady was a smart guy.
[Laughs] I guarantee you that somebody has done that in a courtroom.
Congratulations on being added to the opening credits of The Office. How did that come about? Is that something that you asked for or did it just happen? Does Creed Bratton get pissed off because he's been there longer?
Creed is the greatest. You know... I don't remember exactly how that came about. But it was a nice nod from the producers and that's just a show that I'm damn proud to be a part of.
OK, so I want to get your opinion on this: With David Brent from the UK Office crossing paths with Michael Scott, we now know they live in the same world. How do we, as a viewer, explain that they both lived almost exactly the same day with the same events occurring in their respective first episodes?
Oh! [Laughs] How could that have happened? I think that you -- I think that you should... [long pause] You could really hurt yourself, you could actually sprain your brain trying to justify that. Yeah, that's a tricky one.
So The Hangover Part II is not too far away. Does it give a reasonable and halfway realistic explanation of how these four guys get into the same situation again? I mean, there's no scene where you yell, "Oh, no, I lost my tooth... again!"
Spoiler alert! Stu does not lose his tooth. But, you know, you're just going to have to see it or start seeing the trailer material at a certain point. This is a really fun sort of continuation for these guys' experience together. And I think it celebrates what everyone loved about the first one and also kind of takes it into ridiculous, uncharted territory.
Follow Mike Ryan on Twitter
Follow Movieline on Twitter