Actress T.V. Carpio on Spider-Man: Turn Off the Dark, Julie Taymor, and Risk Management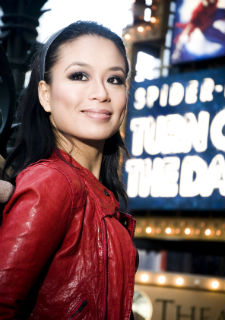 From where she's sitting -- literally, high above the rafters -- T.V. Carpio must finally feel like she's found her calling. The multitalented actress has taken a circuitous and almost accidental route to stardom, turning in stints as a would-be Olympian, a Law & Order guest star, and a professional dancer along the way, but currently she's poised to make her name in the biggest, riskiest manner imaginable: As the female lead in Julie Taymor's Spider-Man: Turn Off the Dark.
Carpio, known best to film audiences for her scene-stealing turn as Prudence in Taymor's Beatles-themed film musical Across the Universe, plays Arachne to Reeve Carney's Peter Parker in the high-profile $65 million production, which opens March 15 in New York. (Though reviewers have gotten an unusual head start with the show's previews.) Due in part to its record-breaking budget, notorious safety concerns, and numerous delays, Spider-Man: Turn Off the Dark is already the most scrutinized show on Broadway -- and the confident Carpio couldn't be more ready to confront the challenge head-on.
Movieline caught up with the busy performer via telephone to learn about her roundabout path to Broadway (two Spike Lee joints and a gig on Carson Daly!), her upcoming film Limitless, and why her unsatisfying early guest turn on Law & Order contributed less to her career than her untrained, non-housebroken puppy.
My strongest reference point for you comes from watching you in Julie Taymor's Across the Universe. How much has that film stayed with you in the years since it was released?
Even now in Spider-Man there are so many people that start out saying, "I loved you in Across the Universe, it's my favorite movie." I didn't realize how big of a following it had! My mom's always telling me, "Oh, two million people have seen you on YouTube!" And I didn't ever actually realize it until this, doing Spider-Man and coming out after the show, how many people do love that film.
Do you ever Google yourself, or do you leave it up to your mom to relay those sorts of things to you?
It's so funny, it's sort of a combination. I'm not one who normally goes and looks for it, but my mom gets these Google alerts where she'll send me blogs and articles. That's how I find out about these things.
You grew up pursuing various performing arts and sports; how did you find yourself acting?
I was actually involved in ice skating until I was about 15; I wanted to be an Olympic ice skater. I had no aspirations of being an actress when I was young. My mother was a famous singer when I was growing up in Hong Kong, so I kind of had no desire to become a singer either because she was such an inspiration and a hero to me, but she was also such an amazing singer I didn't dare think I could sing. So I wanted to be an ice skater, but that didn't work out because of various injuries, and I thought maybe I could try dancing, so I danced for the Carson Daly show for a year, I did music videos and the MTV Music Awards in 2000. Then I realized I didn't really want to do this. In New York you can sort of freelance and do a bunch of different things, so I did commercial work, I tried a little acting here and there but it wasn't anything serious. That's when I got Law & Order, but I was like, meh. Even then it was a Law & Order where the description was like, "30-year-old Asian woman who can't speak English at the laundry mat." I think at the time I was 18 or 19, and all I did was play pretending to be one of my mom's friends, and they hired me. So I did the job but I thought, I don't want to do this, this is awful. I don't want to be an actress. I'm just making fun of my own people.
So just when you landed a television gig, you opted out.
Then I had a really bad breakup and I lost my voice. Once I got my voice back after 10 months of not really being able to speak, I decided I wanted to learn how to sing -- not for a career, but just for fun. It was sort of like not being able to walk and then suddenly being able to walk, but wanting to run. I enrolled myself in the New School, got in, and studied jazz vocals for two years. Then in 2003 I got a call to audition for a Showtime series directed by Spike Lee [Sucker Free City], ended up getting one of the lead female roles, and then after that they shipped me off to L.A. for six weeks and I got my own place and my own car to drive around in. I thought, this is really fun! Maybe I should give this a go. Even then I wasn't completely serious about it.
Really, what happened was I can thank my dog for my acting career. I have a pit bull, and my pit bull ate up my house and I had to have my apartment at the time renovated in 2004. It took 10 months, I think, to renovate the damage he had done. And at that time in that climate it was really difficult to find an apartment with a pit bull. So someone said to me, you should go to L.A. and try doing some acting. So I went with my dog to L.A. and didn't have an audition for four months. I'd never had any acting classes so I enrolled myself into this acting factory where they churn actors out, and at that place the director of the school [introduced me to a manager]. I meet the lady; within a month I have an agent, and a month after that I got Across the Universe and got shipped back to New York.
Amazing. And you haven't left New York since?
Hmm. I went back to L.A. for nine months but I was missing my family so I came back, and when I came back I got Rent.
All those theater geeks who grow up with Broadway in their sights, going to drama camp and auditioning like crazy their whole lives, must be so jealous.
Well, the thing about my parents is that they weren't very conventional anyway. They were always super supportive of whatever I wanted to do. They never just steered me in one direction. I think as a child, my mother had me in a million classes. I had Chinese calligraphy even though I couldn't read Chinese, painting classes and pottery classes. I didn't enroll in any theater classes, but I moved to Springfield, Missouri, when I was 11 and my mom signed me up for theater there. I beat out like 400 Caucasian girls to play the lead role in Annie, which was big news in Springfield, Missouri, because they weren't used to seeing little Asian girls playing Annie.
And when I visited my father, who lived in New York at the time, I had gone and seen a lot of Broadway shows. To say I wasn't a fan of Broadway or even dreamed about being on Broadway would be a lie, but it definitely wasn't a goal. I went to see a lot of shows when I was a child, but I just loved performing, period. I didn't have a main goal as to where I wanted to end up. And I realized growing up that I can't really be picky as to what mediums I do as long as I work.
Do you have a preference among the types of characters you've played, on stage or on film and television?
Only that it's different from the last thing that I've done. Something challenging, something different. As much as I love Prudence, after that I got a lot of offers from people who only saw me as this outcast, maybe gay or bisexual, really geeky. Which is fine, but that's just one part of me. I'm definitely a geek at heart -- not a techy geek, but coming to America as an Asian person living in Springfield, Missouri, I definitely wasn't popular. So I know what that feels like.
You've now worked with Julie Taymor quite a bit; what is it about your connection with her that keeps bringing you two back together on various projects?
Julie thinks out of the box. She never, even with the stories that she writes and the scripts I've received from her, or even outside of the movie and musical that I've worked with her on, she's obsessed with the mythical, magical story. And sometime mythical, magical stories don't fit into people's boxes and you have to have people who are willing to take that journey with you. And I'm definitely one of those people. I love working with her because it's like taking a trip down the rabbit hole without the drugs. The way things turn out is never as written on the page. Her imaginations and visions are so beyond, sometimes, what people can understand on the page. She's just amazing. On another level of creative genius. So, no offense to Law & Order, but I love surrealism and fantasy and I love working with her because she affords those fantasy dream sequences that most people couldn't come up with in their wildest imaginations!
Pages: 1 2