5 Better Prince Songs Than 'Kiss' for Gwyneth Paltrow and Glee to Cover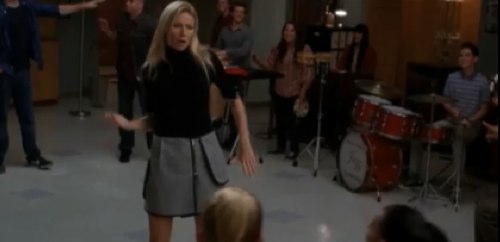 Party over, oops, out of time: Glee is again recruiting Gwyneth Paltrow's patrician pizazz for an upcoming episode where she'll cover Prince's "Kiss" with Matthew Morrison. This proves that the producers of Glee spend eight-to-nine seconds a week thinking of smart song choices. Does Ryan Murphy stick only to decade-topping Billboard hits? I was pleasantly surprised by the Yeah Yeah Yeahs' "Heads Will Roll" on Sunday, but otherwise, his selections are as obvious as Rachel Berry's narcissism. Prince's catalog provides plenty of opportunity for awesome duets -- if only he considered the following five gems for air.
1. "U Got the Look"
Prince is no stranger to duets -- even with himself. His sinister 1987 double-album Sign O' the Times famously features "duets" with his cooing alterego Camille. Naturally, Gwyneth should play the Prince role while Morrison lends Camille's falsetto to the mix. It's got a thumping rock edge that suits both parties, and it provides ample space for Gwyneth's robot moves.
2. "7"
The jukebox standard from Prince's Love Symbol album is as senselessly bombastic and empowered as Glee itself. If Gwyneth poured her heart into a line like, "We'll stand in the way of love and we will smoke them all / with an intellect and a savoir-faire," we'd witness a whole new echelon of country strength.
3. "I Would Die 4 U"
The Purple Rain classic is well-known, but it's not as susceptible to Glee's cheesy sexlessness as "Kiss" is. "I Would Die 4 U" requires theatricality, but it could also summon Schue's testosterone-injected command. "Darling, if you want me too!" he'd holler. Glee can always use more manly hollering. (Neil Patrick Harris would kill this.)
4. "I Wanna Be Your Lover"
The masterpiece from 1979's Prince album is a blissful rush of libidinous brass. The lyric "I wanna be the only one who makes you come / run-nang!" dishes the amped-up cheekiness that should define Glee. Plus, there's room for the sillies.
5. "Alphabet Street"
Glee has a penchant for the chiller "Billionaire"-esque jams too, and Prince's "Alphabet Street" is equal parts choir-room jam and rap attack. After Schue starts us off with some nostalgia-tinged vocals on those choruses, Gwyneth can jump in with the dizzying verve of the hip-hop section. "Didn't ya mama tell you life is too good to waste?!" she'd caw to the kids. Once she gets to the "Jerk your body like a horny pony would" section, she can enact the feistiest hand-jive of all.