Pointless List Ignores Too Many Screen Beauts, but Why?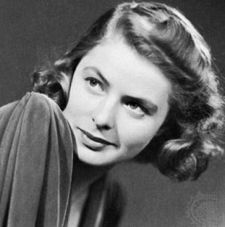 Now hear this: Movieline loves a good pointless list. Problem is, we like when pointless lists actually have a point -- and people are ranked and weird subject matters are brought to the fore. In the case of LA Times Magazine's newest list, the 50 Most Beautiful Women in Film, the selections aren't even ranked. They're just listed in alphabetical order, as if we don't know who Grace Kelly and Elizabeth Taylor are, and need to look them up in the Yellow Pages. The amount of notable omissions is also worthy of a fight. Let's give them one.
First, the 50 Most Beautiful Women in Film:
1. Isabelle Adjani
2. Brigitte Bardot
3. Kim Basinger
4. Monica Bellucci
5. Halle Berry
6. Louise Brooks
7. Claudia Cardinale
8. Julie Christie
9. Jennifer Connelly
10. Joan Crawford
11. Penelope Cruz
12. Dorothy Dandridge
13. Catherine Deneuve
14. Faye Dunaway
15. Farrah Fawcett
16. Greta Garbo
17. Ava Gardner
18. Eva Green
19. Anne Hathaway
20. Salma Hayek
21. Rita Hayworth
22. Audrey Hepburn
23. Angelina Jolie
24. Grace Kelly
25. Beyonce Knowles
26. Nicole Kidman
27. Hedy Lamarr
28. Vivien Leigh
29. Virna Lisi
30. Blake Lively
31. Jennifer Lopez
32. Sophia Loren
33. Ali Macgraw
34. Marilyn Monroe
35. Kim Novak
36. Merle Oberon
37. Michelle Pfeiffer
38. Freida Pinto
39. Natalie Portman
40. Julia Roberts
41. Jean Seberg
42. Brooke Shields
43. Sharon Stone
44. Elizabeth Taylor
45. Charlize Theron
46. Gene Tierney
47. Lana Turner
48. Rachel Weisz
49. Natalie Wood
50. Catherine Zeta-Jones
Now, the uproar: Where is Ingrid Bergman? Lauren Bacall? Claudette Colbert? Joanne Woodward? Jane Fonda? Anjelica Huston? Better yet: Why are half of these people on the list?
It appears that The LA Times picked specific quantities of ladies from each decade of film. That's why you see Farrah Fawcett, Brooke Shields, and Ali Macgraw here. They're definitively '70s. But Farrah Fawcett was barely a movie star, right? Logan's Run and Dr. T. and the Women? It's weird that she's here? Thought so. (R.I.P. nonetheless.)
Then there's the strange smattering of modern-day stars. Freida Pinto has two completed films to her name. Clearly The LA Times wanted an Indian actress on the tally -- but was an anti-Aishwarya Rai dark force in charge here? She's pretty stunning. Also, is Blake Lively secretly a thriving Indian film star, because what the hell is she doing here? Apparently acting ability was not taken into account, because Blake Lively was secretly played by an old Cheri Oteri character in The Town. Beyonce isn't really a movie star, and Jennifer Lopez barely qualifies. At this rate, we should include the spellbinding Natalie Imbruglia for her contributions to Johnny English. I wouldn't object. Or maybe, like, Cate Blanchett. She'd work too.
If we're getting nit-picky about the "types" listed, I'd pick Hitchcock blonde Eva Marie Saint over the smokin', but more generic Kim Novak. I'd also throw in more obscure Hollywood glamor girls, like James Dean's main girl Pier Angeli. Who would you include or un-include?