Melissa Leo Likes Herself! She Really, Really Likes Herself!
We're in the dark heart of Oscar season now, where desperate moves become common and the studios are looking to sink their knives in their opponents any which way they can; whisper campaigns about verisimilitude, anti-Semitism, or Fascist leanings are trotted out to try to discredit the other guy. It's a sad, nasty business, but it's taken an odd turn with Melissa Leo's personal campaign ads for her own role in The Fighter. It's a vanity campaign that might sabotage her front-runner status.
Even though she's won a considerable amount of awards for her performance as Alice Ward -- including the Golden Globe, a Screen Actors Guild Award, the New York Film Critics Circle Award, and the Critics Choice Award -- Melissa Leo has taken it upon herself to launch a personally-funded media blitz for the Academy Award. In one ad, she's glammed up in glitter, bending at the waist and looking directly at the camera; in the other, she's casually propped up by a crystal blue pool, decked out in a full-length white faux fur coat, looking like a Dallas drag queen out for a Sunday stroll. There's no mention of her role in The Fighter, but only the word "Consider" at the top. They resemble less a movie campaign and more like the world's crappiest Country Inspirational album cover.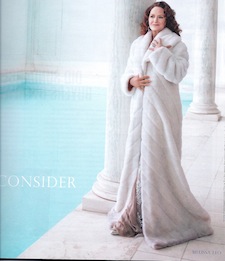 Frankly, the first time I saw the ad I was perplexed. Leo is the front-runner, so why would she feel it necessary to sink such effort into such a brazen act of neediness? It honestly seems like a gag from a Hollywood parody like Larry Sanders or For Your Consideration -- the attention-starved actress, not content with her near-universal acclaim, launches a personal campaign wherein she poses with adorable koalas or a basket full of orphans to make SURE that everyone sees her and loves her. It's a cliche of ego run amok.
Speaking to sister site Deadline, Leo claims that she was upset that she wasn't booking magazine covers as she feels merits her station, a snub that she attributes to age-ism. A charge which I simply don't buy -- there is certainly a negative attitude towards older women, but Sandra Bullock, who is just four years younger than Leo's 50, has no trouble appearing on scores of magazines. In the words of a wise man, Melissa, maybe the magazines just aren't that into you.
And if they weren't before, then I can't imagine this vanity campaign is doing much to change their minds. It's got the whiff of desperation all over it. And that desperation, again, is peculiar because Leo practically had the Oscar in the bag -- Vegas has her as the odds-on favorite to win -- so why jeopardize things with a tone-deaf "I am awesome!" ad? Separate from the campaigns, Oscar nominees themselves usually comport themselves with a modicum of class and restraint, not show up on Academy voters' doorstep, desperately busking for tips.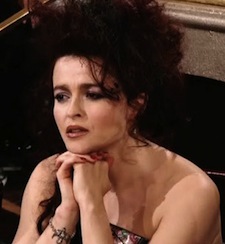 Ultimately, it's her campaign. Whether the "Consider..." campaign will backfire and cost her the Oscar or if it's just the latest escalation in an increasingly crazy Oscar season will only be seen come February 27th. If nothing else, I'm happy it's thrown into confusion what was previously a foregone conclusion in a locked-up category. And who knows, as she accepts the Oscar from the podium, some other actress might give her most heartfelt thanks to Melissa Leo and her misguided ad.