Chris Nolan and Guillermo del Toro: 10 Highlights From Their Memento Q&A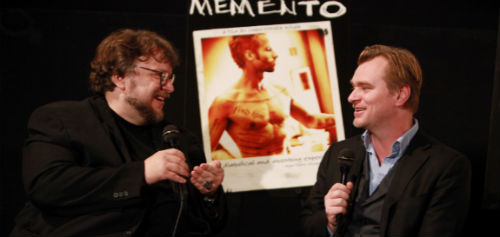 5. When a film has an unreliable narrator, the director must have all the answers.
"You couldn't cheat when you have a structure like this, and Inception's very much the same," explained Nolan. "When you're demanding of the audience that they engage with this game, it's very important that you not cheat. And it's also important that you provide answers; there are ambiguities in the film, but the ambiguities themselves are answers, I suppose. It's very clear to the audience the things that they can't know. You have to feel there's a person behind the film that knows what's going on."
4. But don't hold your breath -- Nolan will never divulge the truth of Inception.
After explaining Memento to viewers at the Venice Film Festival, Nolan's brother (and story writer) Jonathan told him why he should stop. "He said, you made a film where it's ambiguous at the end specifically because you're in the head of a guy who doesn't know the truth. So if you tell people as the creator what the truth is, you're violating the terms of the story. And we'll make much more money if you don't tell them."
3. Nolan, who's nominated for Best Screenplay for Inception, says his brother is the writer in the family.
After expanding on Jonathan's original short story idea as the basis of Memento's script, Nolan began working more and more with younger brother Jonathan: "I started to realize that my little kid brother had figured some things out, had a talent, and I've been exploiting it mercilessly ever since."
Del Toro: "I feel brother envy right now."
2. Nolan, acknowledging influences of Ridley Scott and Terrence Malick in Memento:
"I was so struck by Blade Runner when I saw it, and when I look at this film again there's so much concern with memory and identity that I carried over from that film, because it made such an impression on me. I also see a lot of attempt to do what I saw Terrence Malick doing, in terms of the portrayal of mental states and memory. If you watch The Thin Red Line, that was a revelation to me. He's cutting to memories and flashbacks with simple cuts; there are no wavy lines or dissolves. There are moments [in Memento] where Guy's character is remembering his wife that were taken very much from that film."
1. The biggest current obstacle for both Del Toro and Nolan: Retaining the "madness" of youth.
"The real challenge is maintaining spontaneity, retaining the energy and excitement of what you did when you were young and had nothing to lose," said Nolan. "One of the reasons I've kept a tight team together and we try to carry on working in the same ways is that they know what's important to me... not let things get locked down even though the machinery is now very weighty."
Pages: 1 2